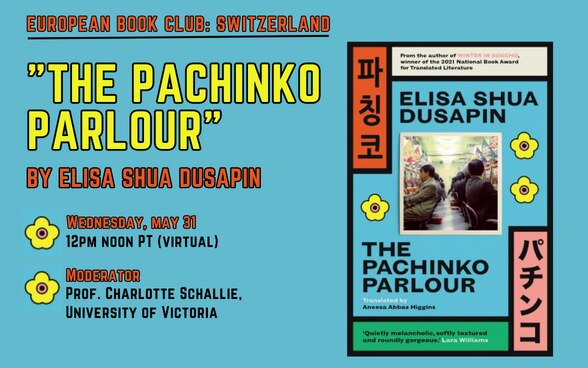 The Consulate General of Switzerland is honoured to host the May edition of the European Book Club in Vancouver.
When & Where
Date: Wednesday, May 31, 2023
Time: 12pm noon PT
Place: Zoom - Feel free to join from wherever you are in the world
Register: Eventbrite
Moderator: Moderated by Prof. Dr. Charlotte Schallié, Professor and Chair at the Department for Germanic and Slavic Studies at the University of Victoria.
Synopsis - "The Pachinko Parlour" 
It is summer in Tokyo. Claire finds herself dividing her time between tutoring ten-year-old Mieko, in an apartment in an abandoned hotel, and lying on the floor at her grandparents: daydreaming, playing Tetris and listening to the sounds from the street above. The heat rises; the days slip by.
The plan is for Claire to visit Korea with her grandparents. They fled the civil war there over fifty years ago, along with thousands of others, and haven't been back since. When they first arrived in Japan, they opened Shiny, a pachinko parlour. Shiny is still open, drawing people in with its bright, flashing lights and promises of good fortune. And as Mieko and Claire gradually bond, a tender relationship growing, Mieko's determination to visit the pachinko parlour builds. (Synopsis by Daunt Book Publishing)
The Author - Elisa Shua Dusapin
"The Pachinko Parlour" is Elisa Shua Dusapin's second novel and is longlisted for The National Book Critics Circle Awards for Barrios Books in Translation Prize. Her debut novel, "Winter in Sokcho", won the 2021 National Book Award for Translated Literature. Elisa Shua Dusapin grew up in France, South Korea and finally Switzerland, where she studied literature and still resides today.
Get your copy of "The Pachinko Parlour"

We do have a limited number of copies that will be distributed for free within Canada. The books will be given away on a first come, first serve basis. Please mind that we will only send books to registered participants of the Book Club. To inquire about availability, please send us an email to vancouver@eda.admin.ch with your mailing address.
You can also purchase your personal copy, e.g. via Indigo or on Amazon.ca.
Questions?
Reach out to us at vancouver@eda.admin.ch