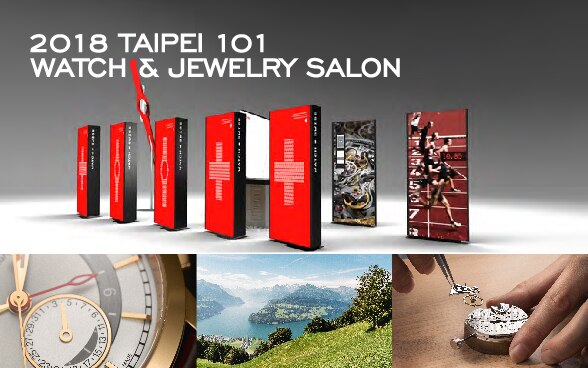 The Trade Office of Swiss Industries is pleased to present, together with the Federation of the Swiss Watch Industry (FH), Switzerland Tourism and Taipei 101, watch.swiss, an exhibition dedicated to Swiss watches.
Original and open to everyone, this exhibition outlines Swiss watches through seven basic topics: Switzerland, Swiss made, history, design, precision, manufacture and complications. All the way through the exhibition, the visitors are immersed into the wonders of Switzerland and are invited to discover how Swiss watches work, their history and the way they are designed and manufactured. What is the origin of the reputation for precision enjoyed by Swiss watches? What is Swiss made? The answers and much more besides will be found at watch.swiss.
The exhibition will be open to the public from the 7th of September to the 10th of October 2018 inside Taipei 101 Mall, on the 1st floor.
The opening of the exhibition is on the 7th of September 2018. For this occasion, a forum on the topic "Explore Undiscovered Switzerland" will be held from 14:00 to 16:00 at The One, on the 4th floor of Taipei 101 Mall.
Starting from the 8th of September to the 7th of October 2018, guided tours of both the 2018 Watch & Jewelry Salon (4F) and watch.swiss (1F) will also be offered to visitors every day between 11:00 to 21:00.

Both events require an online registration. Please click on the following link to register for the forum and/or the guided tours. For any questions, please call 02-8101-8927 (Monday to Friday, 9:00-17:30) or send an email to mkt01@tfc101.com.tw.
For more information on watch.swiss, please visit the website of the exhibition.