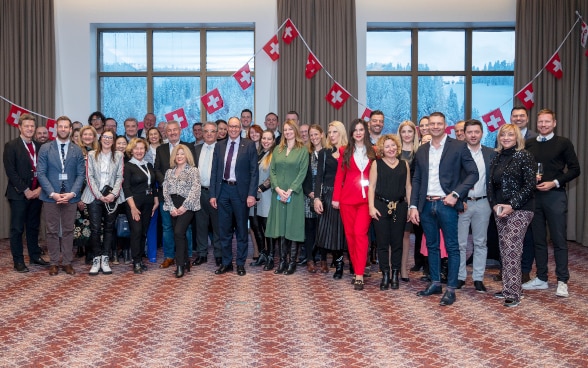 In his keynote speech on the panel "Who needs a strong IT industry and why everyone?", Ambassador Schmid referred to the leading role of Switzerland in technological development and innovation and spoke about the "Swiss ingredients" for success. As an example he mentioned the roughly 900 healthcare start-ups working on various endeavors such as digital therapeutics, block chain-based data exchange solutions and process digitalization that are underpinning the prominent role of Switzerland in medicine and life sciences. Ambassador Schmid concluded that if you want excellent healthcare, you have to invest in technological innovation.
The Ambassador explained that "tech" is not just driving forward the Swiss economy, pushing Switzerland to rank first in the Global Innovation Index 2021, it is also more and more shaping the bilateral economic exchange between Serbia and Switzerland. With a volume of nearly 800 Mio. Euro in 2021, Switzerland now ranks as the 4th trading partner of Serbia in services. This is not least due to the significant and steadily growing Serbian ICT sector in which several Swiss IT companies are playing an important role.
Finally, the Ambassador used both his keynote speech to the assembled Serbian business leadership as well as his welcome remarks at the "Fondue Happy Hour" organized by the Embassy in cooperation with the Swiss-Serbian Chamber of Commerce to emphasize Switzerland's commitment to achieving the goals of the 2030 Agenda. Since the 2022 Kopaonik Business Forum was dedicated to the sustainable development of Serbia, Ambassador Schmid underlined that the ongoing transformative process towards a sustainable world is a tremendous challenge for humanity. He stated that it is the shared responsibility of governments, the private sector and civil society to work together to reconcile economy, ecology and social equality. Switzerland will continue to work towards achieving the sustainable development goals in its foreign policy, and in particular in its bilateral cooperation with Serbia, which is currently celebrating its 30th anniversary.