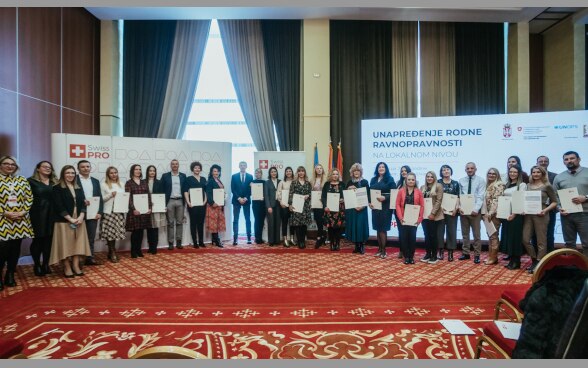 The projects have strengthened the legal and institutional framework for gender equality at the local level, as well as the position of women in local communities, including rural women, young, unemployed and disabled people, victims of domestic violence and other vulnerable groups, said Melina Papageorgiou, Head of the Governance Domain at the Swiss Cooperation Office in Serbia.
"Through the Swiss PRO Programme, the Government of Switzerland has provided continuous support to local self-governments in their efforts to build and strengthen capacities for the implementation of gender equality, both in the field of service provision and in regulations and the way local budgets are formed. Ultimately, that means moving towards institutions and a society that provides equal opportunities for all", Papageorgiou said.
Antigona Andonov from the Professional Service of the Commissioner for the Protection of Equality pointed out that gender equality implies equality of all women and men, equal chances and opportunities in all areas of private and social life, and that women in politics, and especially in local communities, are the voice of all other women and a model for women that something is possible.
In addition to grants for implementation of 26 projects, during the four years of the Swiss PRO Programme, capacity building activities and technical support were also provided to local self-governments. As a result of the support, among other things, 31 local self-governments formed a mechanism for gender equality, 27 established a local women's councillor network, 26 developed and adopted a local action plan. In addition, support was provided for capacity building through a total of seven training workshops attended by 168 representatives from 44 cities and municipalities, including female mayors.
"The support of the Swiss Government and cooperation with the Swiss PRO Programme is a very important experience for us, because the project provided support to women for more active involvement in the work of local communities and decision-making at the local level, as well as empowering women to establish associations and start their own business", said Maja Cuckić, the Secretary of the Assembly of the City of Kruševac.
A short video on the project implemented by the municipality of Blace was shown at the event, while more information on the impact of all 26 projects, as well as the Swiss PRO Programme overall support in the area of gender equality, can be found in the Fact Sheet.
The event is implemented within the program "Enhancing Good Governance and Social Inclusion for Municipal Development - Swiss PRO", which the Swiss Government is supporting with 6.6 million euros for the period 2018-2022.