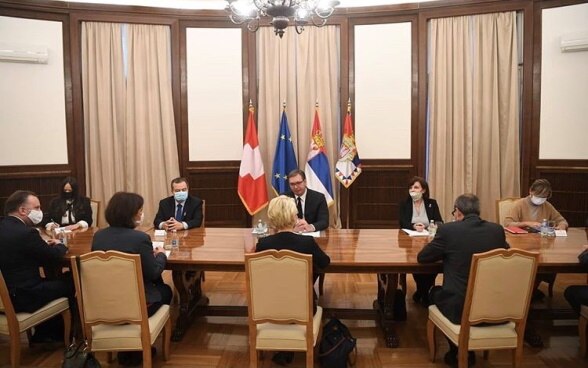 She was received for official talks by her counterpart at the National Assembly of the Republic of Serbia, H. E. Mr. Ivica Dacic, on Monday, 9th November. During the meeting, both Presidents jointly assessed that the bilateral political, economic and cultural relations between the two countries are excellent and intense. Swiss support to the ongoing reform process in Serbia was especially highlighted.
On the same day, President Moret was received for a courtesy visit by the President of the Republic of Serbia, H. E. Mr. Aleksandar Vucic, who expressed readiness to intensify cooperation between the two countries. Amongst the topics discussed was the support of Switzerland to the process of establishment of dual education in Serbia and other aspects related to the economic development. Another topic of discussion was the situation of the region, especially the EU facilitated dialogue between Belgrade and Pristina, also supported by Switzerland.
The visit of President Moret further included a courtesy call on H.E. Ms. Ana Brnabic, the Prime Minister of the Republic of Serbia, and on H.E. Mr. Sinisa Mali, Minister of Finance of the Republic of Serbia. Key economic and political reforms were discussed during both meetings.
During a visit to the city of Nis and to the municipality of Paracin, on 7 and 8 November, President Moret was introduced to projects supported by the Swiss cooperation, through which Switzerland is investing EUR 20 million per year in Serbia in the fields of good governance, economic cooperation and renewable energy.