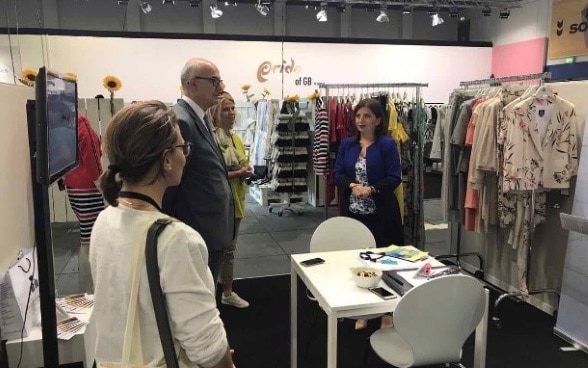 Six leading Serbian fashion producers: Mona, Afrodita Mode Collection, Amibo, ContoBene, Brug Jeans and Bros Jeans have presented their collection at the Panorama fashion fair in Germany. The Serbian exhibitors have attracted numerous visitors, quality contacts were established and first orders have been concluded. The exhibition of the Serbian brands was supported by Switzerland, in cooperation with the Development Agency of Serbia, the Chamber of Commerce and Industry of Serbia and the Fashion Apparel Cluster Serbia. The participation at this fair will enable the six Serbian companies to access the German market. This is a stepping-stone for many other markets, primarily the European ones.
The Ambassador of the Republic of Serbia in Berlin, Dušan Crnogorčević, visited the stand of the Serbian companies and discussed with the Serbian brands the planned activities to increase their exports.
The successful exhibition at Panorama is also the result of an extensive preparation, including a study visit to the fair organizers at the beginning of this year. A total of 15 companies participated in the visit out of which six have passed the selection and got the opportunity to exhibit among famous brands such as Bugatti, Lacoste, Naf Naf, Tom Tailor, Gant and many others. The German market, with about 80 million inhabitants, has been identified as a market with a high potential for the Serbian companies due to their product range and functionality, as well as for their individuality, price and quality.
The Swiss Import Promotion Programme (SIPPO) promotes sustainable and inclusive trade with an overall objective to integrate developing countries into world trade, the EU and regional markets. During the period 2017 – 2020, SIPPO will invest in Serbia 1.3 milion EUR into the sectors of natural ingredients, value-added textiles and wood-based technical products.