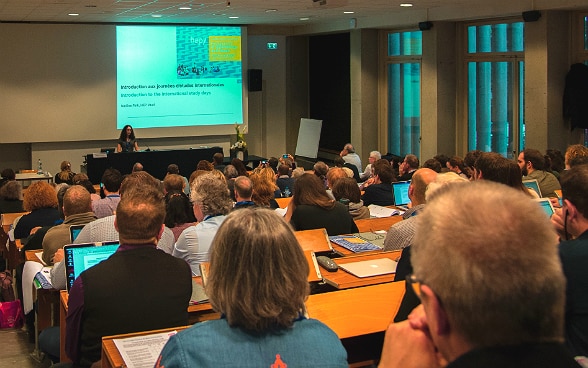 What experiences have teachers had in dealing with the Holocaust in the classroom? What suggestions can they make about how best to cover this difficult topic? The answers to these questions are likely to differ according to the national context, each country's own history and its relationship with the past. One of the objectives of the international study days on education at Lausanne University of Teacher Education (HEP Vaud) was therefore to identify ways for teachers to relate the history of the Holocaust as effectively as possible.
The conference was organised by HEP Vaud as part of Switzerland's chairmanship of the IHRA. The programme covers teaching and educational aspects, young people and social media – which are the priorities defined by Switzerland for the duration of its chairmanship. "Teaching the next generation about the Holocaust is one way of keeping the memory of the Holocaust alive," said the current IHRA chair, Benno Bättig, as he opened the conference. He hoped that "by passing on knowledge about the Holocaust, we can help young people develop an awareness of where racism and discrimination can lead". Passing on the knowledge and memory of the Holocaust is all the more important today, given the dwindling numbers of people who experienced the Holocaust and are still here to tell us about the atrocities. Mr Bättig also stressed the need to "convey to young generations the ability to feel compassion for other people's suffering – and a willingness to stand up for them when called upon to do so".
New methods are needed to make up for the gradual loss of the Holocaust survivors. One such approach, using new media, is the educational app 'Fleeing the Holocaust', unveiled at the IHRA plenary meetings in Bern and now being presented to a wider audience in Lausanne. The app was developed with support from the Swiss IHRA chairmanship and will be launched in early summer 2018. It is designed for use by young people on their own or in the school environment.
The IHRA currently has 31 member states. Under Switzerland's chairmanship, Bulgaria and Australia have also taken a major step towards full membership in the near future. The IHRA's institutional partners include the UN, the Council of Europe, the Office for Democratic Institutions and Human Rights of the OSCE, and UNESCO. Switzerland has been a member of the IHRA since 2004. The IHRA chairmanship rotated from Romania to Switzerland in March 2017 and will transfer to Italy on 6 March 2018.
---
Further information:
Address by Ambassador Benno Bättig, Chairperson-in-Office of the IHRA
Switzerland's chairmanship of the International Holocaust Remembrance Alliance in 2017

---
Address for enquiries:
Information FDFA
Bundeshaus West
CH-3003 Bern
Tel.: +41 58 462 31 53
Fax: +41 58 464 90 47
E-Mail: info@eda.admin.ch
---
Publisher: