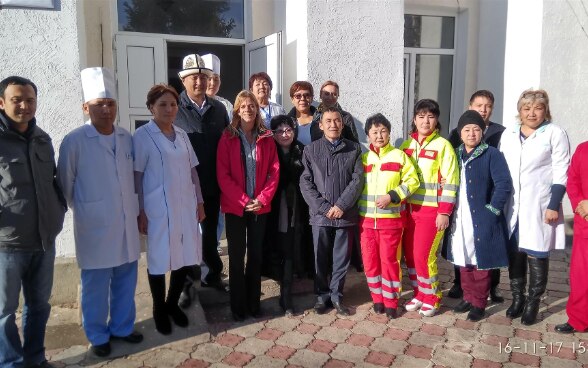 The Government of Switzerland through the Swiss Agency for Development and Cooperation (SDC) purchased the medical equipment for the emergency departments of hospitals, basic equipment and cars for the family medicine centers for the total amount of 800'000 CHF within the project "Health Facilities Autonomy" supported by the Ministry of Health of the Kyrgyz Republic.
"It is so important that our contribution within our health projects gets the strong support of local authorities and personnel of the health facilities. I am very impressed by the level of commitment of all stakeholders, in particular the family doctors, the nurses and the management of the health facilities and also by the support of local authorities" – said Véronique Hulmann, Ambassador of Switzerland to the Kyrgyz Republic.
The "Health Facilities Autonomy" project is a contribution to the national programme "Den Sooluk" which has been implemented since 2015.  The project aims to improve access of rural population to medical services and to enhance the effectiveness and quality of health care services by increasing the autonomy of health care organizations and optimizing referral systems. The project implements activities for efficient use of infrastructure, financial, personnel and logistical resources. During this trip, the Swiss Ambassador also inaugurated laundry facilities of four hospitals. This is part of another project on infection control.
Around 50 doctors and 250 nurses provide medical care to more than 190 thousand people in these three rayons. The new medical equipment will improve efficiency and quality of medical care for the local population as well as access to medical services.