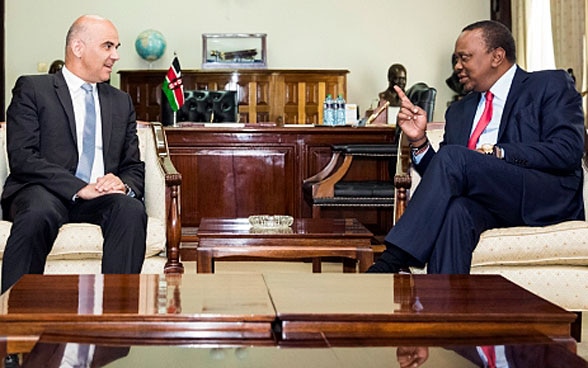 The declaration of intent on the Framework for the Return of Assets from Corruption and Crime in Kenya (FRACCK) sets out best practices regarding the return of illegally acquired funds to Kenya. In particular these include transparency and accountability in the return process, the use of funds for the benefit of the civilian population, and the possibility of investing the funds in projects to promote sustainable development.
In future these principles will provide a framework for returning illegally acquired funds from Switzerland to Kenya. In addition to Switzerland, the UK and the Channel Island of Jersey will also join in signing the declaration of intent with Kenya. Assets are currently frozen in these countries as in Switzerland (approx. USD 2 million) following a request for legal assistance.
President Berset stressed the importance of strong national judicial bodies for democracy and the rule of law, and commended the independence of Kenya's justice system, which was demonstrated when the presidential elections were re-run in 2017.
Increasingly important partner
Switzerland considers to be an increasingly important partner, both politically and economically. Kenya is among Switzerland's five most important trade partners south of the Sahara; bilateral trade has doubled since 2005. While Switzerland has been served from London in recent years, President Kenyatta announced that Kenya plans to open an embassy in Bern in 2018.
There is also potential for closer cooperation in view of the plans of the Kenyan government to expand the public health service. The Swiss delegation explained that Swiss firms were following with great interest the steps taken by Kenya to improve the investment climate in numerous sectors.
With regard to international affairs the two sides discussed the situation in East Africa, particularly in Somalia and South Sudan, as well as the positive steps being taken between Eritrea and Ethiopia. Further topics of discussion included cooperation between Switzerland and Kenya at international level, as well as Switzerland's relations with the African Union, which have intensified in recent years.
Onward to northern Kenya
On Monday Mr Berset met Kenya's Chief Justice, David Maraga. Meetings are also set to take place with staff at the United Nations Office in Nairobi (UNON), representatives from Kenyan civil society, members of the arts scene and the local Swiss community.
On Tuesday, 10 July, Mr Berset will visit Kakuma refugee camp Turkana County in the north of the country. Kenya provides refuge to half a million refugees mostly from Somalia, South Sudan and the Democratic Republic of the Congo, where the civilian population has fled from internal conflict. Swiss Humanitarian Aid is active on Kenyan territory: in Kakuma, where 186,000 people have found refuge, it finances vocational training and other projects.
---
Further information:
Bilateral relations Switzerland–Kenya
Horn of Africa
Kakuma refugee camp
Restitution of illicit assets

---
Address for enquiries:
FDHA Information Service
058 462 85 79, media@gs-edi.admin.ch
---
Publisher:
Federal Department of Home Affairs
Federal Department of Foreign Affairs