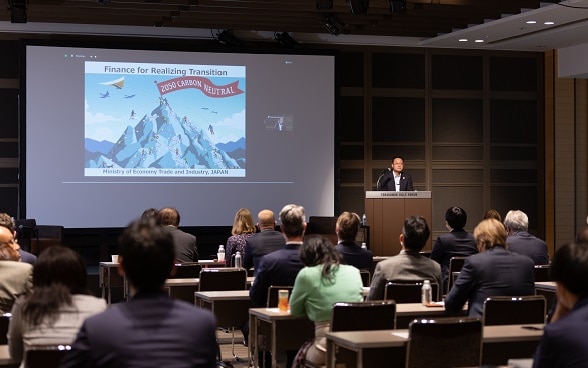 In order to achieve net zero targets, our economies undergo significant changes. Finance plays a critical role in enabling industries to embrace this transition. The event brought together representatives of government, companies engaged in decarbonization and financial service providers to share their perspectives and advance discussions on transition finance. 
In a keynote speech, Mr. Shinichi Kihara, Deputy Director General for Technology and Environment at the Ministry of Economy, Trade and Industry (METI) laid out the Japanese approach to transition finance, which includes basic guidelines, specific roadmaps for hard-to-abate sectors and model projects.
In subsequent panel discussions, Japanese, Norwegian and Swiss companies shared their experiences and advice relating to transition finance. First, representatives of companies in some of the most affected sectors discussed their plans to tackle the challenges of decarbonization, the role of regulators and international standards. Second, representatives of financial service providers discussed their approaches to providing transition finance. They underlined the importance of engaging and supporting, but also challenging companies.
Summary of discussions (PDF, 5 Pages, 341.9 kB, English)
Address for inquiries: tokyo.event.ecofin@eda.admin.ch