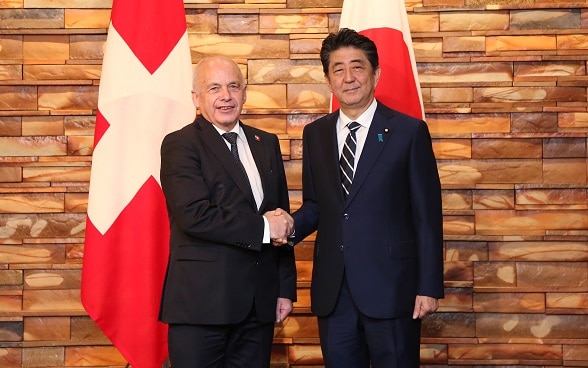 In discussions with Shinzō Abe, President Maurer paid tribute to Japan's global contributions and thanked him for inviting Switzerland to the G20 Finance Track. He stressed Switzerland's support for a rule-based, multilateral trading system and referred to the many similar interests and values with Japan.
Both sides mentioned the excellent economic relations and discussed ways and means of further intensifying them. President Ueli Maurer reiterated Switzerland's willingness to update the successful bilateral Free Trade and Economic Partnership Agreement, which has been in force for ten years. Regional issues such as the Korean peninsula, China and Iran as well as possible cooperation in the area of cyber security were also discussed.
The President of the Swiss Confederation and Prime Minister Abe exchanged views on key challenges for the global financial and economic system, such as digital change and sustainable investment. These topics were also the focus of the discussions among the G20 Finance Ministers and Central Bank Governors in Fukuoka. With regard to the taxation of the digital economy, President Maurer underscored the need for a consensus-based taxation solution and Switzerland's willingness to tax profits where the added value is generated. Switzerland will continue to play an active role in the discussions. He also welcomed the important work under the Japanese G20 presidency, which promotes a life-cycle approach to investments and thus long-term sustainable infrastructures. The G20 issue of dealing with an ageing society is also important for all states.