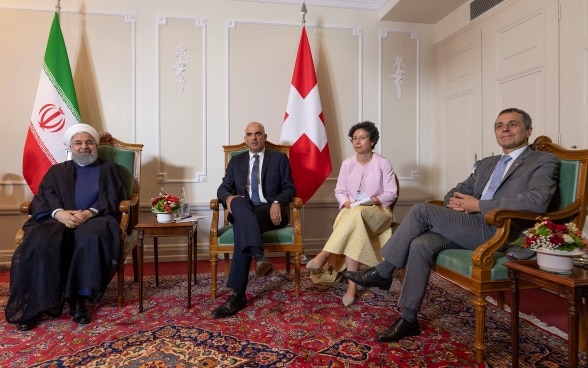 Switzerland was represented at the official talks by President Berset and Federal Councillors Simonetta Sommaruga and Johann N. Schneider-Ammann. The Iranian delegation consisted of President Rouhani, Foreign Minister Mohammad Jawad Zarif and Health Minister Hassan Ghazizadeh Hashemi.

Mr Berset called on all sides to exercise restraint and not to jeopardise the nuclear deal with Iran (Joint Comprehensive Plan of Action; JCPOA) which is an unparalleled success for international diplomacy. With regard to the announced re-introduction of US sanctions, Switzerland will strive to ensure that transactions involving humanitarian goods will still be possible in future.

Appraisal of bilateral relations

The talks also addressed ways in which the two states could continue to exploit the potential of their bilateral relations in view of the announced re-introduction of US sanctions. Both sides commended the results of the Road Map agreed at the end of February 2016 and the successful intensification of bilateral relations that has followed.

Regular dialogues have been launched or resumed in the fields of economic affairs, finance, human rights, justice, civilian nuclear safety and migration. Switzerland considers these talks to be substantive, open and constructive. The death penalty was also discussed, the universal abolition of which is one of Switzerland's priorities, as is the protection of minorities.

In recent years, in addition to those areas covered by the road map, closer cooperation has developed with Iran on healthcare and water management, and these should now be formalised. Following the talks, an agreement on goods and passenger transport by road and two declarations of intent on cooperation on healthcare and science were signed in the presence of President Berset and President Rouhani.

On Tuesday morning, the two presidents opened an innovation and industry forum organised by private chambers of commerce. The two men met for an initial discussion in private on Monday evening before being joined by Federal Councillor Ignazio Cassis and Iranian Foreign Minister Mohammad Javad Zarif. Switzerland called on Iran to recognise the right of the State of Israel to existet and reaffirmed its support for a two-state solution.
---
Further information:
Bilateral relations Switzerland–Iran

---
Address for enquiries:
André Simonazzi, Federal Council Spokesperson
Tel.: 058 462 37 03; andre.simonazzi@bk.admin.ch
---
Publisher:
The Federal Council
Federal Department of Home Affairs
Federal Department of Foreign Affairs