Embassy of Switzerland in India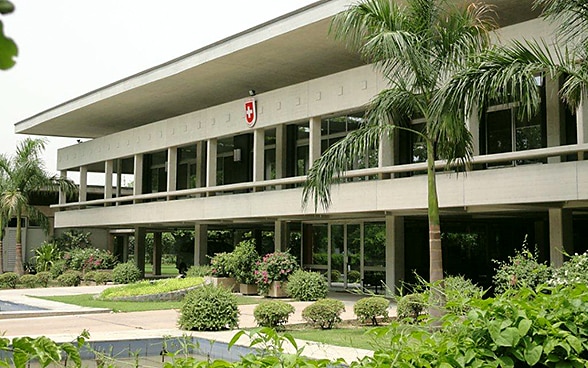 CORONAVIRUS (COVID-19)
The World Health Organization (WHO) declared the current coronavirus outbreak a pandemic. Currently, there is a risk of infection with the new coronavirus in all regions of the world. Since 16 March 2020, the Federal Council calls on Swiss travelers to return to Switzerland.

According to the Indian Government, all international scheduled airlines operations shall remain suspended until further notice.

As per 25.05.2020, for domestic flights new regulation on the check-in procedures have been imposed in order to safeguard traveler's health. Please check the website of the Ministry of Civil Aviation and follow the instructions given by your airline.

In order to facilitate the return of Swiss nationals travelling in India, Switzerland organized three repatriation flights to Zurich between April 4th and April 26th from Goa, Mumbai-Delhi, Kolkata-Kochi. This means that the vast majority of Swiss tourists wishing to return home were able to do so. Switzerland has no plans to organize any further repatriation flight from India to Switzerland.

The Indian government has announced a partial re-commencement of domestic flights from 25th May 2020 onwards.

Travelers are advised to check on detailed procedure with the respective airline as well as on quarantine measures or special regulations of the respective Indian States/Union territories in advance. It might be possible that at the beginning only a particular group of people (e.g. participants in repatriation program) are eligible for these flights. Current information can be found on the websites of the airports or of the Indian Ministry for Civil Aviation.

General Information on immigration:

Please note that the onward journey to Switzerland (flight ticket or train ticket) must already be booked before departure. Proof of this must be presented during check in.

We are currently aware of the following airlines which may provide you a repatriation flight connection to Europe. The tickets have to be booked directly on the website of the airline or through the customer service hotline/email.

Lufthansa: www.lufthansa.com

customersupport.in@dlh.de 1800-102-5838

Air France: www.airfrance.com

+91 12 462 33 502, 1800-4192-033

KLM: www.klm.com

+91 12 462 33 503

, 1800-4193-044

Air India: www.airindia.in/evacuation-flight.htm

Although our capacity to assist you is limited, it is important for us to know where you are in order to provide you with all the necessary information. Depending on the evolution of the situation, it is possible that you may have to prepare yourself to stay in India longer than expected. If this is confirmed, it is advisable to make sure that you have a place where you can reside for a longer period of time, that your Indian visa is up to date, that you have sufficient financial reserves and that you have the necessary insurance (travel, health, repatriation - ex: REGA).

Information for Indian citizens

Kindly note that immigration into Switzerland will currently only be possible if you possess one of the following residence permits/visas (as per directive of the State Secretariat for Migration in Berne)
Valid residence permit C, B, L or a legitimation card
Long-term Visa type D only
Refugee's travel document issued by Switzerland with a permanent residence permit or a valid F permit
We recommend bringing a proof of relationship (e.g. copy of marriage certificate as well as the copy of the Swiss or European passport of your partner) or the residence permit card to the airport.
Questions and answers on entry and stay in Switzerland as well as the exceptions and suspension of visas can be found on the Homepage of the State Secretariat for Migration SEM
We ask all Swiss travelers abroad to quickly register their details and place of stay on the "Travel Admin App". This will make it easier for us to contact them.
Passengers are required to comply with the general hygiene rules of the FOPH.
Indian Government information: Government of India
For movements within India, please apply if required for an ePass.
For movements within India, please apply if required an ePass on following website: serviceonline.gov.in
For extension of your Indian visa, please go to: indianfrro.gov.in
Please also follow the recommendations of the World Health Organization (WHO), Swiss Federal Office of Public Health (FOPH), Swiss Federal Department of Foreign Affairs (FDFA) travel advice "Focus Corona Virus"
Federal Office of Public Health (Switzerland) New coronavirus / Recommendations for travellers (Quarantine regulations)
Federal Office of Public Health (Switzerland)
FDFA Travel Advice, Focus Coronavirus (COVID-19)
Helpline FDFA:
+41 800 247 365
+41 58 465 33 33
helpline@eda.admin.ch