Embassy of Switzerland in France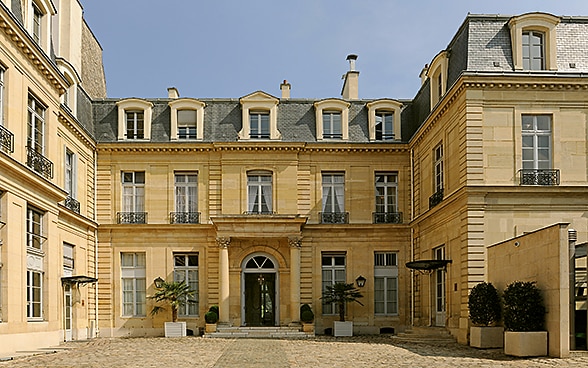 Important message concerning access to the counters of our representation
The counters of this representation aer accessible provided that an appointment has been booked in advance by telephone on +33 1 49 55 67 00.
You can always send us your specific requests by e-mail at paris.chancellerie@eda.admin.ch.
Please note: You can only submit your visa applications, provided that you have previously booked an appointment with the visa section (paris.visa@eda.admin.ch or +33 1 49 55 67 00 ).
In emergency cases outside business hours, please contact the FDFA Helpline by email at helpline@eda.admin.ch or by telephone at +41 800 24 7 365 or +41 58 465 33 33 .

Coronavirus Information
To access the full content of this website, please see our page in french.
For information related to the Novel Coronavirus (COVID-19) kindly consult the information and directives of the local authorities (Ministère des Solidarités et de la Santé) and the recommendations of the World Health Organisation (WHO).
On state level, the Federal Office of Public Health of Switzerland (FOPH) informs in regards to the Novel Coronavirus and publishes travel advice accordingly.

The Travel Advice FDFA (in German, French and Italian) offers travelers basic information for travel preparation by informing on possible risks and certain precautions. They are to be considered as a complementary source of information.

For urgent requests, kindly contact the FOPH Helpline (Tel. +41 58 463 00 00) or contact the Swiss representations in France directly.

As the official representation of Switzerland, the Embassy covers all matters concerning diplomatic relations between the two countries. It represents Swiss interests in the areas of political, economic, financial and legal affairs, as well as science, education and culture.
Detailed information can be found on the French page.