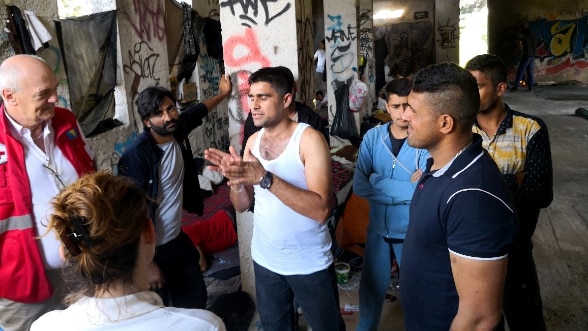 Since January 2018, more than 52,000 migrants have crossed Bosnia and Herzegovina on their route towards the EU. The strongest and most dynamic migration is evident in the cities bordering Croatia, mainly in the Una-Sana Canton in the Northwest of BiH. The high number of transiting and stranded migrants has created a serious challenge for a country with limited institutional capacities to deal with the situation. This is aggravated by the lack of accommodation and shortage of financial resources. About 8,000 migrants are currently residing in BiH. They are exposed to multiple social and protection risks. They struggle with access to clean water, food and basic healthcare. The outbreak of the COVID-19 pandemic aggravates the situation for all people living in BiH with even higher health risk exposure for migrants. Conditions in reception centres are of great concern. They are overcrowded and basic public health measures, such as social distancing, proper hygiene, and self-isolation are thus not possible or extremely difficult to implement.
Switzerland's response
Based on the needs identified by the Embassy of Switzerland in Bosnia and Herzegovina, the Swiss Government supports several humanitarian projects targeting the stranded migrants as well as the local population. The projects are financed by the Humanitarian Aid Department of the Swiss Agency for Development and Cooperation and the State Secretariat for Migration.
More information in the Migration Crisis BiH factsheet