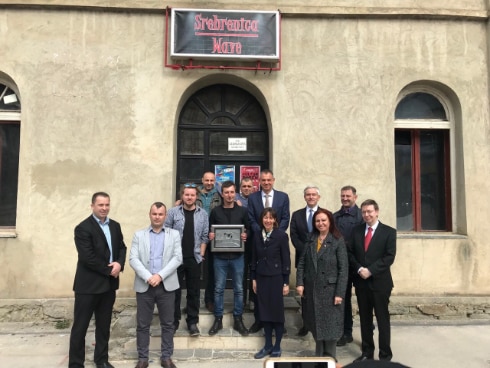 The group of Francophone ambassadors and head of missions in Bosnia and Herzegovina visited Srebrenica today in order to present the Organization "Srebrenica Wave" with a recognition "Bridge for the Future – Most za budućnost – Le pont pour l'avenir". This special recognition, which is handed over for the third year in a row, aims to publicly award an individual or a group for their efforts in promoting a dialog among the cultures and the culture of dialog. With this symbolic award we want to praise the good will for building bridges between the different communities and ethnic groups in Bosnia and Herzegovina, as well as to show that this will exists and comes naturally in different forms. 
The Ambassadors of Egypt, France and Switzerland, the Head of the Diplomatic Office of Belgium and the deputy Head of Mission of the Embassy of Germany attended this ceremony and presented the award to the Director of "Srebrenica Wave" Mr Muamer Čivić.
The joint statement is signed by Archbishop Luigi Pezzuto, Apostolic Nuncio to BiH, Mr William Asselborn, Head of the diplomatic Office of Belgium, H.E. Mr Manoel Gomez-Pereira, Ambassador of Brazil, H.E. Mrs Avgustina Tzvetkova, Ambassador of Bulgaria, H.E. Drahoslav Stefanek, Head of the Council of Europe Office, H.E Mrs Hala El Bishlawy, Ambassador of Egypt, H.E. Lars-Gunnar Wigemark, EU Special Representative and Head of the EU Delegation, H.E. Mr Guillaume Rousson, Ambassador of France, H.E. Mrs Christiane Hohmann, Ambassador of Germany, H.E Mr Georgios Iliopoulos, Ambassador of Greece, H.E. Mr Nicola Minasi, Ambassador of Italy, H.E. Mr Reinout Vos, Ambassador of the Netherlands,  H.E. Mrs Dana Constantinescu, Ambassador of Romania, H.E. Mr José Maria Valdemoro Gimenez, Ambassador of Spain, and H.E. Mrs Andrea Rauber Saxer, Ambassador of Switzerland.
The "Bridge for the Future – Le pont pour l'avenir"  was previously presented to the Center for children and youth with special needs Los Rosales in Mostar (in 2018) and to the informal group of high school students from the "Secondary Vocational School Jajce" and the "High School Nikola Šop" in Jajce (in 2017).
This award is presented at the occasion of March 20, the International Day of Francophonie when we celebrate dialogue and the universal values of peace, cooperation, solidarity and sustainable development. Since 2010, BiH has had observer status at this organization.