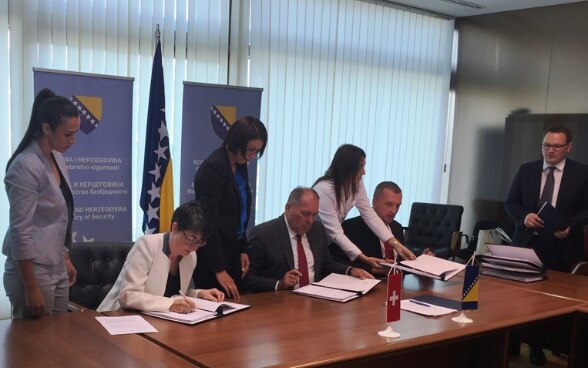 The Western Balkan countries in recent times have become a region of transit and destination for migrants from other parts of the world. The project "Support to efficient migration and border management" will help the Ministry of Security of Bosnia and Herzegovina during the next two years in upgrading and integrating data in a comprehensive migration information system. With such a system, data on asylum, resident permits, registrations, visas and border crossing will be efficiently managed. The effect of such a system is enormous, because it will help to record and monitor the entry and stay of foreigners in BiH. Modules for the integration of biometrics data for foreigners shall be developed, allowing reliable and efficient registration of foreigners and check of data by means of biometric identification methods. Online registration for visitors and tourists shall be introduced and on disposal to foreigners, their hosts and the tourism industry; it will simplify registration procedures and raise the level of security of the country.
The project shall help to create conditions for establishing a video surveillance system at 62 international state border crossings points. Once these conditions are being met, previously granted EU IPA funds can be used for the purchase of the equipment and its installation. Furthermore, the project will help Bosnia and Herzegovina in defining its negotiating position regarding the implementation of the EU integration processes for Chapter 24: Justice, Security and Freedom related to migration, asylum and external borders. Last but not least 230 civil servants will be trained in appropriate application of international and domestic protection of migrants, asylum seekers and particularly vulnerable groups.
"In total, Switzerland will provide an amount of CHF 900'000 to the Ministry of Security, which amounts to nearly 1.6 million KM, for this specific project. All interventions will contribute to manage the control of state borders in accordance with international standards and to maintain high levels of security for BiH citizens, residents, migrants and visitors", stated Barbara Dätwyler Scheuer, Director of Cooperation at the Embassy of Switzerland in Bosnia and Herzegovina, on this occasion.
Switzerland has been a close partner of Bosnia and Herzegovina in the area of migration since many years. The bilateral cooperation intensified with entering into a Migration partnership in 2009. In the framework with this partnership Switzerland supported the Ministry of Security and its administrative organisations, the Border Police, the Service of Foreign Affairs and the Sector for Immigration and Asylum.