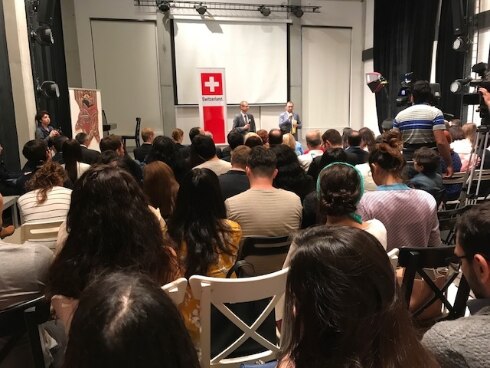 The documentary, funded by the Embassy, was directed by the Women's Association for Rational Development (WARD). It is dedicated to the 100th anniversary of women's right to vote in Azerbaijan and describes the situation of Azerbaijani women over the last century. The documentary takes the viewer on a fascinating journey through different historical periods, focusing on the political, social and educational contribution of women to the development of the modern Republic of Azerbaijan. A lot of rare film material from the archives has been used for the documentary and is shown to the public for the first time. After shedding light on 6 historical eras, the movie continues to discuss the unprecedented opportunities for today's women of Azerbaijan, but also highlights remaining challenges keeping women from fully realizing their social, professional and political potential.
In his opening remarks, Swiss Ambassador Philipp Stalder mentioned that the screening of the movie was a contribution to tolerance: "Tolerance has been the motto of the current European Film Festival and with pleasure Switzerland and the Swiss Embassy associates itself to the tremendously important values of tolerance, mutual respect and peaceful cooperation among persons, people and nations". Furthermore, he dedicated the film to the celebration of 100 years of the Azerbaijani Democratic Republic and congratulated the Azerbaijani citizens and nation for all the achievements. Finally, the importance of human rights and women's rights was underlined by the notion of the 70th anniversary of the Universal Declaration of Human Rights.
As mentioned in the documentary's credits, the Swiss Embassy does not necessarily share the opinions mentioned in the documentary and gave the producers free choice to handle the topic of female role models in Azerbaijan's history.
The documentary soon be available online on youtube.
Articles in the media:
"Republican Women Daring to Change" by Azvision
"İsveçrə Səfirliyinin dəstəyi ilə çəkilən sənədli film nümayiş olundu" by APA