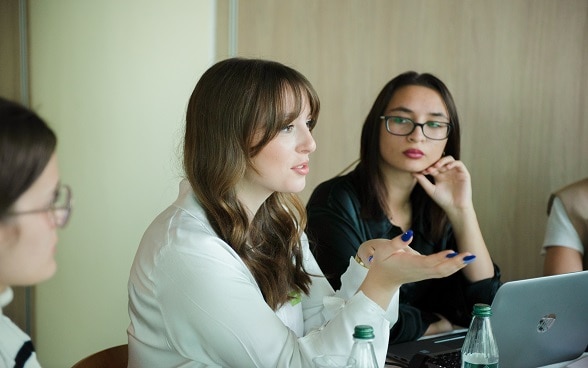 A presentation of the survey findings took place today in front of key actors in the vocational education and training sector, including the working group from the Ministry of Finance and Economy responsible for designing the next strategy on employment and skills.
"The working group has been working for 8 months to understand the key challenges we face in equipping young people with the proper skills for their future and to identify innovative solutions, according to new labour market trends. For the first time the Strategy is being consulted with all, and we are happy that we have found the right partner, with the right approaches, so that all actors in the field are involved", said the Minister of Finance and Economy, Delina Ibrahimaj.

"The new strategy to guide the work of the VET system for the next years is in the making. Inclusiveness and broad-based consultations are success factors for a strong policy framework", said Deputy Head of Mission at the Embassy of Switzerland, Patrik Meier.  

Some interesting findings unfold from the survey such as: students receive VET information and career guidance informally from their families and network, while employment for male students is 3.5 times higher than for female ones. They also rate the priorities for improving the vocational educational offer in the country where number one is how to increase employability upon graduation.

Other important findings include quantitative indicators that can be helpful for policy and decisionmaking in the next few years. 

The survey was part of a campaign that involves students and gives a voice to their opinions and perspectives in order to feed into the future work in this field and design better strategies in the VET sector.

'Skills Development for Employment' is a project supported by the Swiss Agency for Development and Cooperation SDC and implemented by UNDP Albania.