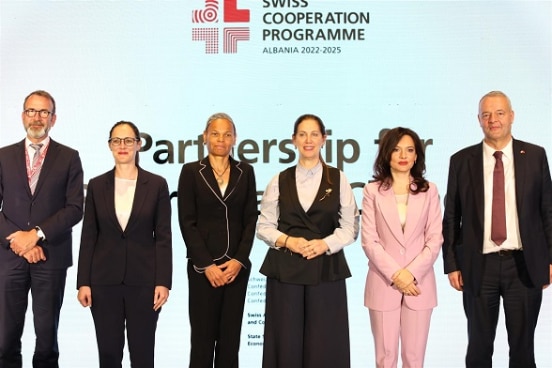 Minister of Finance and Economy Delina Ibrahimaj and the Director General of Switzerland's Agency for Development and Cooperation SDC, Patricia Danzi, launched today a new phase of the cooperation programme between the two countries.
"The new cooperation programme between Switzerland and Albania is yet another sign of the close partnership between our two countries. Quite a lot was achieved in the past four years. I am sure quite a lot will be achieved in the next four years as well. The new programme builds on and continues with its support to the key areas of democracy, economy, infrastructure services and health", said Minister of Finance and Economy Delina Ibrahimaj. 

"Today I am glad and honoured to launch with all of you the new Swiss-Albanian cooperation programme 2022-2025. Partnerships are an essential feature of our cooperation. Many of you – Albanian Government, civil society, private sector, development partners - were participating in the elaboration of this new cooperation programme. I thank you for contributing. We have a joint ownership of the programme. We look forward to jointly implementing it as well", said Director General of the Swiss Agency for Development and Cooperation Patricia Danzi.

At the launching event several government ministers and MP's were present, whereas the Swiss government delegation included the representative from the Swiss State Secretariat for Economic Affairs SECO. Mr. Martin Saladin, Head of Operations.

According to the new cooperation programme (PDF, 44 Pages, 10.5 MB), Switzerland commits 105 million Swiss francs for supporting Albania's democratic governance, economic development, infrastructure services and climate change, and health. It covers the period 2022-2025 and will focus on reforms and results in the areas of democracy, rule of law, business climate and living conditions for citizens.

Switzerland is one of the key partners and bilateral donors in Albania especially in the areas of democratic governance, macroeconomic support and health.