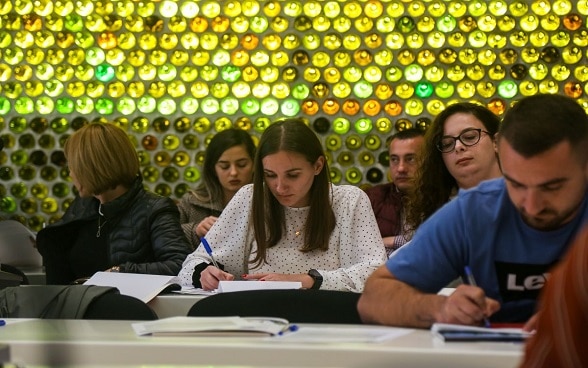 A two day Communication Peer Exchange Workshop took place on November 2nd and 3d as part of the first phase of a project that is introducing smart energy management systems in four municipalities. Staff responsible for communications met in Korçë to initiate active communication and coordination between the municipalities.
Through interactive sessions and demonstrations of best practices and examples from Switzerland and EU countries, participants learned and defined how to design and implement communication plans in their municipalities. As the four municipalities are part of the 'Smart Energy Municipalities' project by the Swiss State Secretariat for Economic Affairs (SECO), they need to coordinate and create synergies for better results in energy management.

Under the motto "Together we are strong", participants identified joint actions for the future. While municipalities struggle with increased costs, by introducing energy efficiency measures and sound energy management they will positively impact their budgets and improve public services. Implementing energy efficiency in municipalities will also improve quality of life, boost the economy, save energy, and reduce costs and greenhouse gases.

SEMP is supporting municipalities in innovative energy efficiency solutions and is assisting their communication efforts so that citizens can better manage the challenges of the current energy crisis.