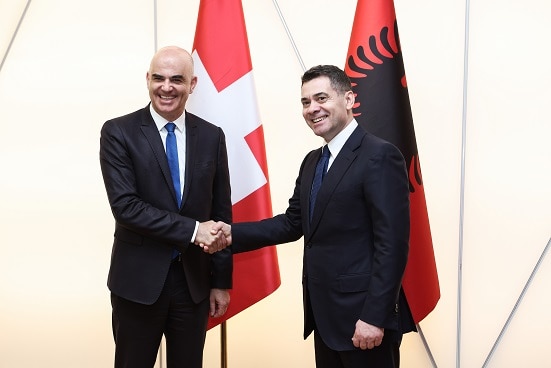 Swiss Federal Councillor and Vice President Alain Berset had his first visit in Albania where he met with Deputy Prime Minister Arben Ahmetaj, Minister of Health and Social Protection Ogerta Manastirliu and Minister of Finance and Economy Delina Ibrahimaj.
The visit came after Switzerland and Albania agreed to cooperate more closely in the area of social insurances. An agreement signed on Friday 18.02 ensures that Swiss and Albanian nationals receive equal treatment in respect of their social security entitlements and have better access to these benefits.
"Switzerland is supporting the reform process of Albania. Today we made another important step towards that goal. I am confident that the social insurance agreement brings positive change for our citizens and the economic exchanges or our countries", said Minister Berset.
The new agreement enables citizens to receive pensions also from abroad, while both governnments will have a better cooperation in preventing social insurance fraud and abuse. It also facilitates mobility of Swiss and Albanian citizens and protects them from double social insurance contributions.
Vice President Berset met with Deputy Prime Minister Arben Ahmetaj and discussed the excellent relations between Albania and Switzerland, and the responses to the 2019 earthquake and the Covid-19 pandemic.
He also met with the Minister of Health and Social Protection Ogerta Manastirliu and visited the Vora health centre renovated with Swiss support. Discussions centred on efforts to tackle the pandemic, the vaccination roll-out, and the experiences of both countries in handling the crisis. Another topic was Switzerland's support for the Albanian health system. Switzerland is Albania's most important bilateral partner in the health sector.
This was the highest-level visit by a Swiss government official in recent times.