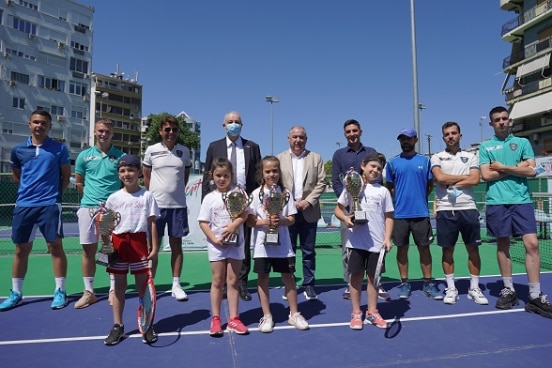 "Sports for Health: a small project but a great example" said Swiss Ambassador Adrian Maître to around 100 children who had gathered as part of an initiative by Tirana Tennis Association to train and engage school children in sports.
The project was a cooperation between the Tirana Tennis Association, Municipality of Tirana, Raiffeisen Bank and the Embassy of Switzerland. It trained 1,200 children in tennis and organised tournaments and championships for both individuals and teams. The objective was to educate children with physical activity that leads to better health.

"Sports for better health: this is what we promote today. Let's bring together sports for health and schools for health! To achieve this, let's work together public sector and private sector, with support of international partners of Albania", continued Ambassador Maître.

Switzerland is cooperating with the government of Albania in a new health project: Schools for Health which started in March 2021 and will promote healthy behaviors in school children all over the country.

"It's a wonderful activity and I thank the Swiss Embassy and the Tirana Tennis Association for engaging children in sports. Sport is also in the focus of the municipality and we are working on creating an environment that enables children and youth to do more sports", said the Deputy Mayor of Tirana, Andi Seferi.

Fatos Nallbani from Tirana Tennis Association expressed his gratitude to the schools, municipality, Raiffeisen Bank and the Swiss Embassy for working together to bring sport closer to the children.
Despite the setbacks caused first by the 2019 earthquake and then by the Covid-19 pandemic, the schools and the association were able to adjust and to move the project forward, bringing it to a successful conclusion.
Through this small project both children and their parents reported an increased physical and psychological condition among those who participated, in addition to increased friendships and social interactions. Physical education teachers also improved their capacities and curriculum.

This model of cooperation between schools, municipalities, sports associations and private sector is easily replicable for other cities of Albania.