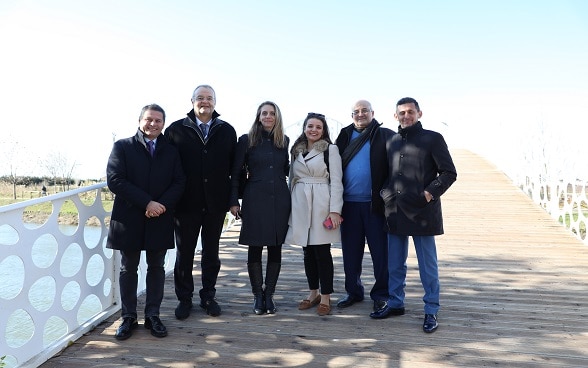 A grant provided to the Municipality of Lezha resulted in the establishment of two new pedestrian bridges over Drin, two piers for mooring boats, and bicycle stations alongside the riverbank. The inauguration was done by Mayor Pjerin Ndreu and Swiss Ambassador Adrian Maître.
"The joint work we inaugurate today speaks for itself: citizens and visitors can see it and enjoy it. I can already see that Lezha's most important historical site, Scanderbeg's grave, is now more accessible for visitors and travelers. At the same time, this is an improvement for the citizens of Lezha – they can have a a sense of pride and belonging", said Swiss Ambassador Adrian Maître.
"This project was realized according to European standards – the two bridges will make more beautiful the city of Lezha which is developing more and more. Switzerland is one of the main donors for our city and I thank the Ambassador who is a friend or Lezha", said Mayor of Lezha, Pjerin Ndreu.  
The project idea came from the Municipality of Lezha based on the necessity for requalification of the city urban area at a time when along the Drini river promenade began the process of reconstruction for the buildings damaged by the earthquake of 26 November 2019.
Both bridges provide better access to the city's main area and especially to the Scanderbeg Memorial – a place of historical siginificance and tourist attraction. In addition, the two piers provide the opportunity for boat trips alongside the Drin river all the way to the Adriatic Sea.
The grant package (https://tinyurl.com/4ak8pt6t) is designed to boost inter-municipal cooperation but also cooperation with private businesses, NGO's, and educational institutions. It aims to concretely increase regional development and cohesion, to reduce inequalities among various regions, and develop potentials of remote areas as included in the government's "Programme for Integrated and Sustainable Development of 100+ Villages of Albania 2022-2026".
Switzerland and Austria have supported the Regional Development Programme Albania for several years as part of efforts to encourage economic development, reduce disparities and improve social and economic conditions for Albanian citizens in all regions.