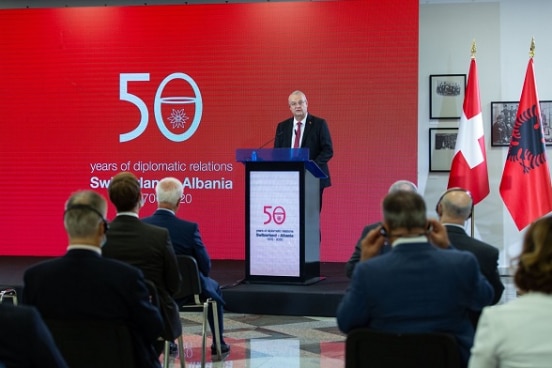 Swiss and Albanian experts presented the history of diplomatic relations between Switzerland and Albania was unfolded at the Ministry for Europe and Foreign Affairs. The conference and exhibition "50 years of diplomatic relations Switzerland-Albania" brought together representatives from the diplomatic corps, government, politics, history, diplomacy, culture and religious communities.
"This celebration is a sign of the importance this anniversary has for both countries and it also testifies the early links between our two peoples, based on human stories and archival documents that go beyond this half century. It comes as a moment of reflection for what has been achieved and for the continuation of our cooperation in the future", said Deputy Minister for Europe and Foreign Affairs Sokol Dedja. He also thanked Switzerland for standing alongside Albania in difficult moments facing the heavy consequences of the earthquake and the pandemics, offering very generous contributions.
In a video greeting, Switzerland's Foreign Minister Ignazzio Cassis emphasized that Switzerland remains committed to continue standing alongside Albania in its road towards European integration. "I join you in celebrating this anniversary and in reflecting on the links and relations between our two countries. Let's continue to build and increase our exchanges to the benefit of both the Albanian and the Swiss people", said Minister Cassis.
Swiss Ambassador in Albania Adrian Maître said: "50 years ago our two countries signed up for formal bilateral diplomatic relations. In the 50 years since then, our two countries have been intensely exchanging, come closer and are intensively cooperating".
Albania's first resident ambassador in Switzerland in the post-communist period Gazmend Turdiu shared his memories and impressions from the moments when both countries started new exchanges in the phase after 1992.
The event included an exhibition with documents and photos unpublished so far that shed light on the evolution of diplomatic, economic and human relations between the two countries.
Switzerland and Albania have increased their cooperation in many areas in the last few decades. Switzerland is currently one of the main supporters and donors in development cooperation with Albania, at a bilateral and multilateral level.