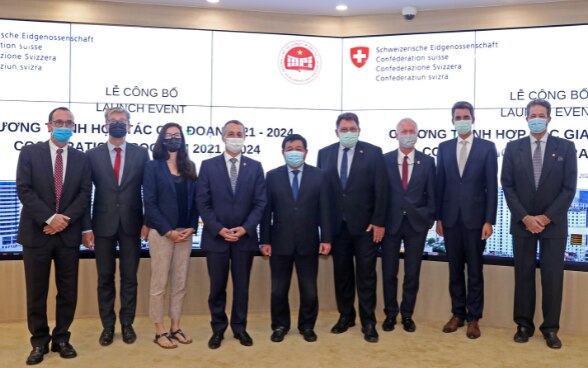 Under the new Cooperation Programme, Switzerland will provide support focusing on promoting market-oriented and reliable economic framework conditions and enhancing the private sector's competitiveness and market access. In particular, the Programme will focus on the strengthening of public finances management, competiveness and integration of Small and Medium Enterprises (SMEs) into international value chains, the creation of decent income opportunities, the promotion of sustainable trade, the modernization of the financial sector, the improvement of the business-enabling environment, as well as the enhancement of urban planning. Gender equality and climate change will be crosscutting themes guiding the Swiss engagement.
The new Cooperation Programme 2021-2024 will be implemented by the State Secretariat for Economic Affairs (SECO) and is well aligned with the Socio-Economic Development Plan (SEDP) 2021-2025 of Vietnam. It will integrate the new challenges of the current COVID-19 pandemic and supports thus the country's efforts to build a more sustainable, inclusive and resilient economy after the crisis and to remain on track to become a high-income country by 2045.
"The launch of the new Cooperation Programme underscores both our countries' commitment to a partnership that has grown strong and deep over the past half century." – said Mr. Ignazio Cassis, Vice President of Switzerland.
"The key orientation in the Program that SECO is sharing with us today has been reviewed and assessed by Vietnamese relevant agencies. It is highly relevant and responsive to Vietnam's needs in the coming year" – said Mr. Nguyễn Chí Dũng, Minister of Planning and Investment of Vietnam.

The Socialist Republic of Vietnam and the Swiss Confederation established diplomatic relations in 1971, and the Swiss government ODA programmes started in 1991. By the end of 2020, Switzerland had contributed CHF 600 million (VND 15 trillion) to Vietnam's socio-economic development and reform agenda. In line with the rapid development over the past three decades, Switzerland continues to adjust its ODA programmes, focussing today on economic development cooperation.

Over the last years, Switzerland through its economic development cooperation contributed to a more effective and transparent public finance management notably by assisting in the development of the new Public Debt Management Law. It also supported the strengthening of environmental, social and governance standards in the corporate sector, the provision of business support services to assist SMEs to integrate into global value chains, the deepening of the financial market and the simplification of the business registration. The cooperation furthermore contributed to the development of the Ninh Thuan solar power plant, supporting Vietnam's transition to renewable energy sources and setting a benchmark for the development of such projects.
For further inquiries, please contact:
Ms. Tran Ngoc Ha, Senior National Program Assistant, Swiss Cooperation Office, Embassy of Switzerland in Vietnam. Email: ngoc-ha.tran@eda.admin.ch/ Phone: +84 24 3934 65 89 (ext. 850660)