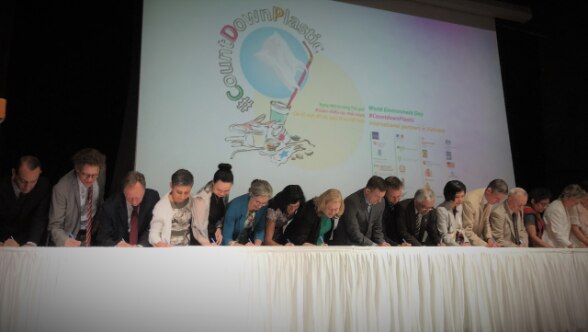 Forty-one embassies and international organisations will mark World Environment Day by signing a Code of Conduct on Combatting Plastic Pollution at L'Espace, 24 Trang Tien, Ha Noi at 9:00am local time.
On the day, Mrs. Beatrice Maser Mallor, the Ambassador of Switzerland to Viet Nam joins with other Heads of Missions and Head of Cooperation in signing the Code of Conduct. The signing ceremony is a highlight in the Plastic Pollution Advocacy Campaign, which is a joint campaign involving embassies and international partners working in support of Viet Nam's sustainable development.
By signing this Code of Conduct, Embassy of Switzerland in Viet Nam, with the international partners, commits to assessing our current office practices related to single-use plastic, and instituting operational changes to minimize their plastic waste footprint. All signatories also agree to engage their staff in reducing plastic waste and to encourage their partners to adopt low- or no plastic waste-emitting options.