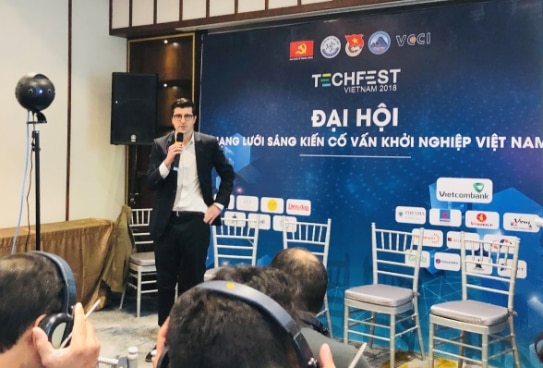 During three days, the "Techfest" attracted about 5,500 participants, hosted 250 startup booths and triggered USD 7.86 million new investment commitments from investors. In his opening remarks of the event, Vietnam's Prime Minister, H.E. Nguyễn Xuân Phúc, affirmed the Vietnamese government's support for young startups.
Attending the event, Mr. Grunder was impressed by the vibrancy and growth of the startup community in Vietnam. In his speech at the VMI Annual Meeting, he underlined the important role of the startup community in creating income opportunities and jobs. However, many start-ups and newly established startups fail within the first 2 years of existence due to limited access to expertise, innovation and capital.
With the overall objective to contribute to job creation and to improve the entrepreneurial ecosystems, SECO launched its global Entrepreneurship Program (Swiss EP) in 2015 in Albania, Bosnia-Herzegovina, Macedonia, Peru, Serbia and Vietnam. Over the last three years, Swiss EP extended its support globally to 2,430 entrepreneurs and mobilized additional resources of CHF 26.2 million. In Vietnam, Swiss EP, through its partner organizations, has supported 693 entrepreneurs and helped raise around CHF 5.6 million startup capital.