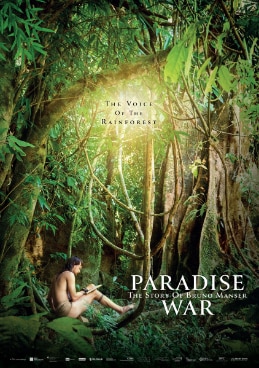 Save the date for the award winning drama 'Paradise War – The story of Bruno Manser' at the Europen Union Film Festival. Starring actor Sven Schelker, it won best actor at last year's Swiss Film Awards.  The film is based on the true story of Swiss environmental activist Bruno Manser (1954-2000).
Paradise War was shot in 76 days in Switzerland, New York, Budapest and Borneo, but was prepared over a period of ten years. With a budget of 6M Swiss Francs, it is among the most expensive Swiss productions. In a massive operation, the team went to remote locations in the last remnants of the primary jungle in Borneo. The indigenous actors were cast among the original Penan people who continue their struggle to this day. With shots of breath-taking landscapes and soundtracks by academy-award winner Gabriel Yared, Paradise War is an aesthetically grandiose film casting light on current environmental issues.
Tickets are available from Wed, 21.04.2021. Purchase your tickets here.  
To view the festival's full programme, please visit www.euff.sg
M18 some mature content and nudity | 2019 | 141 min | English & German with English subtitles appearing only during foreign language dialogue