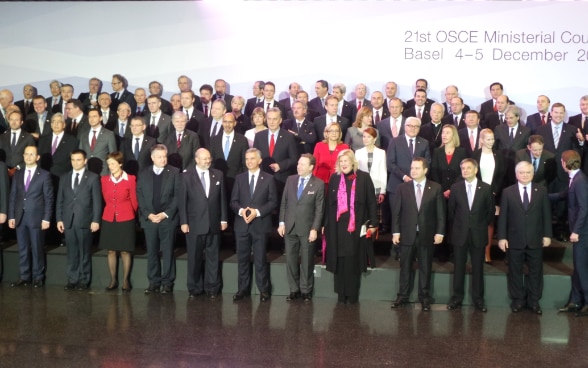 The first day of the OSCE Ministerial Council was dominated by the situation in Ukraine and discussions on security in Europe. In his opening speech at the event in Basel, President Burkhalter pointed out that the Ukraine crisis also had ramifications for security in Europe and that it was not only the people in Ukraine who had been put under considerable strain. He also stated that the trust between the Russian Federation and the West had suffered and that many of the standard post-Cold War assumptions on European order had been called into question. Mr Burkhalter went on to note how a dangerous increase in military activities and aggressive rhetoric could be observed.
Nonetheless, he continued, the OSCE had demonstrated its capacity to agree on and implement concrete measures to de-escalate the crisis in Ukraine. As examples, President Burkhalter named the special monitoring mission and OSCE-supported ceasefire agreement, although both were fraught with uncertainties. In order to ensure the positive role played by the OSCE, he stated, all the players involved would need to summon the political will, despite their differences, to maintain cooperation and work together to find a solution.
In view of the developments taking place in Ukraine, Mr Burkhalter called for every effort to be made in implementing the Minsk agreement consistently and efficiently. He stated that the Trilateral Contact Group must be supported, and that the special monitoring mission must be granted the funds it requires and be given the necessary freedom to carry out its tasks safely. To this end, President Burkhalter announced that Switzerland had allocated an additional CHF 2 million to support the OSCE monitoring mission. He also declared Switzerland's willingness to back all political dialogue within Ukraine and to support a variety of civil society projects.
With reference to security in Europe, Mr Burkhalter announced the appointment of a panel of experts from the whole OSCE area tasked with drawing up recommendations on how to re-establish trust and uphold security in Europe as a common undertaking once again, describing the aim of the panel as "not about bringing about revolutionary change in the European security landscape, but about re-establishing a greater degree of security for each individual".
---
Further information:
OSCE Chairmanship 2014
The 2014 Ministerial Council meeting on the OSCE website
Swiss Chairmanship of the OSCE on Twitter

---
Address for enquiries:
Information FDFA
Bundeshaus West
CH-3003 Bern
Tel.: +41 58 462 31 53
Fax: +41 58 464 90 47
E-Mail: info@eda.admin.ch
---
Publisher: