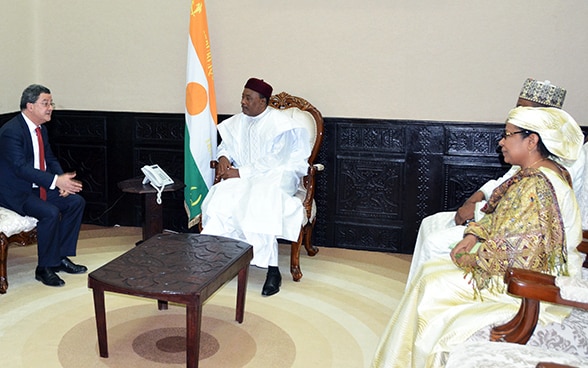 During his talks with President Issoufou, Mr Boulama, and the minister of state, Mohamed Bazoum, Mr Rossier highlighted Niger's importance for regional security in the fight against terrorism. The country, which is facing attacks by Boko Haram in the south, is indeed a member of the regional coalition fighting the Islamist group. The state secretary also stressed the importance of the upcoming presidential elections in 2016 for Niger's stability. Switzerland is providing financial support to Niger in the run-up to the elections and is cooperating with national agencies to promote stability and peacebuilding via projects aimed at strengthening intercommunity dialogue.
Mr Rossier also talked about Switzerland's new 2016-19 cooperation strategy for Niger which was adopted in December 2015 and sets forth the following three priority areas: food security, basic education and vocational training, governance and peace. The new strategy provides for around CHF 23 million per year to carry out these activities.
Mr Rossier and Mr Boulama have signed an initial pledge of CHF 38 million in Niamey to be used to implement a variety of Swiss Agency for Development and Cooperation (SDC) projects over the course of four years. The goal of the SDC's programmes in Niger is to support the local authorities and various electoral processes in the country. They also aim to strengthen the livestock and small-scale irrigation sectors.
Switzerland has been active in Niger since 1977. It supports the transfer of skills and resources to the local authorities in order to foster good governance at the local level in particular. A further objective of the SDC's programmes is to counter food insecurity in Niger. For its part, Swiss Humanitarian Aid is mainly engaged in helping refugees from Nigeria and Mali. During his visit, Mr Rossier visited SDC-supported projects such as a primary school and vocational education and training centre in Kara Kara.
---
Further information:
Bilateral relations Switzerland and Niger
The SDC in Niger

---
Address for enquiries:
Information FDFA
Bundeshaus West
CH-3003 Bern
Tel.: +41 58 462 31 53
Fax: +41 58 464 90 47
E-Mail: info@eda.admin.ch
---
Publisher: