Agriculture and food security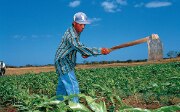 In many developing countries, agriculture plays a highly important role in terms of food security and is often a significant contributor to the national economy. By supporting farmers in the areas of production, marketing and the sustainable use of resources, the SDC is making a substantial contribution to poverty reduction.
Improved livelihood and increased resilience for people especially Disadvantaged Groups living in rural and small urban centres (Domain 2)
Within the second domain of intervention Switzerland will mainly focus on improving livelihood and increasing food security through better access to business services (training, advice) and to markets, as complementary initiatives to existing programmes focused on agricultural production and rural infrastructure. Sustainable management and legally secured use of natural resources including land, water and forest, with an emphasis on value chains of agricultural products, post-harvest systems and marketing will be supported. Switzerland will also foster access to skills development for sustainable gainful employment in Nepal and overseas, and increase entrepreneurship skills and market development as strategic orientations.
To strengthen the synergies among the programmes of both Domains and to enable beneficiaries to enjoy complementary livelihood options – economic, social and political – to sustainably improve their living conditions, Switzerland will continue applying a road corridor approach. This approach entails coordinating all activities supported by Switzerland in the areas adjacent to a given stretch of the road, which is the natural access for the population to market and public services; it is as such part of the geographical concentration strategy, centred on the socio-economic dynamics of the covered area rather than on the administrative boundaries of the district.
Activities of Domain 2 will be implemented bearing in mind the social costs of migration and seeking ways to enhance the productive use of remittances. The capacity of relevant stakeholders - government, local authorities, civil society and the private sector – will be strengthened so that the economic gains are sustained and satisfactory basic services are delivered to the population. Special attention is given to women and Disadvantaged Groups, to ensure they receive an equitable share of the benefits.