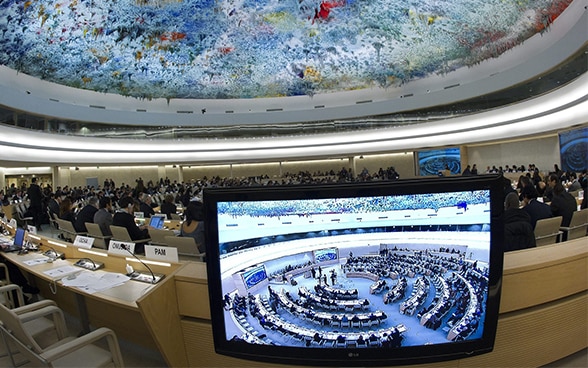 The HRC's summer session traditionally focuses on women's rights. Switzerland was particularly active in this area, supporting the resolution on eliminating violence against women and girls with disabilities. Switzerland also contributed to the discussions on gender equal recovery from COVID-19 and on preventing female genital mutilation. It also joined a group of States supporting the fight against violence and discrimination based on sexual orientation and gender identity.
During the annual dialogue with the High Commissioner for Human Rights, Michelle Bachelet, Switzerland notably expressed its concern about the growing restrictions worldwide on the rights to freedom of expression, of association and of peaceful assembly. Switzerland denounced the arrests of journalists, the criminalisation of civil society organisations and the excessive use of force during protests.
For the tenth anniversary of the UN Guiding Principles on Business and Human Rights, Switzerland commented on the progress made in in their implementation, particularly the development, together with the private sector, of practical guides for companies . Switzerland called for renewed efforts in this area and for States and companies to cooperate more closely in order to better recognise and protect human rights.
Switzerland also devoted particular attention to  the discussions on the human rights situations in various countries. With regard to Belarus for example, Switzerland supported a resolution renewing the mandate of the Special Rapporteur and calling on the authorities to immediately and unconditionally release all persons detained arbitrarily, including journalists and human rights defenders. Switzerland also endorsed the new resolution on the situation in Tigray (Ethiopia), as well as other resolutions (Eritrea, Syria, Ukraine).
Alongside some 40 States, Switzerland supported a joint statement initiated by Canada that calls on the Chinese authorities to respect their human rights obligations in the Xinjiang Uyghur Autonomous Region, in Hong Kong and in Tibet. Switzerland also endorsed other joint statements on the human rights situations in Belarus, Iraq, Nicaragua and Venezuela.
Together with other States and civil society organisations, Switzerland facilitated the organisation of several side events during the session. First, an event on human rights in the digital age, organised by Switzerland and Liechtenstein, highlighted the need for increased cooperation between States, social media and tech companies, and civil society to develop responses tailored to today's challenges. Switzerland also co-organised an event underscoring the importance of strengthening the UN human rights system to prevent arbitrary detention arising from drug policies. Finally, Switzerland and its partners organised an event to discuss the excessive use of force during protests in the context of the COVID-19 pandemic.
---
Further information:
Website - Human Rights Council (HRC)

---
Address for enquiries:
FDFA Communication
Federal Palace West Wing
CH-3003 Bern, Switzerland
Tel. Communication service: +41 58 462 31 53
Tel. Press service: +41 58 460 55 55
E-mail: kommunikation@eda.admin.ch
Twitter: @SwissMFA
---
Publisher: