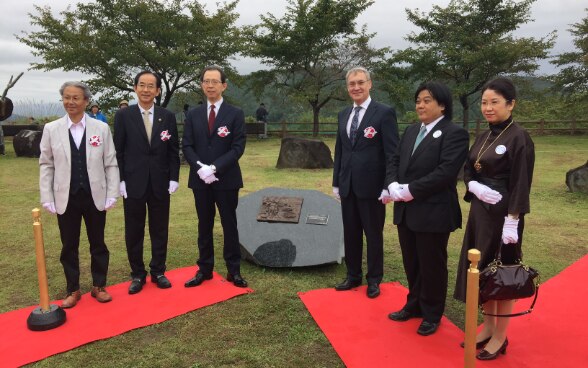 On 23 September, at the opening ceremony of the "Super Agri Festival 2017" in Fukushima City, the Ambassador of Switzerland to Japan, Jean-François Paroz, was invited to unveil the relief of William Tell in Fukushima Sky Park together with the Governor of Fukushima Prefecture Masao Uchibori, the Mayor of Fukushima City Kaoru Kobayashi, Professor Koichi Watanabe, producer of the relief and Mr. Yoshiaki Saito, organizer of the festival.
In his speech, Ambassador Paroz stated that: "William Tell is a symbol of the fight for freedom and justice. He is celebrated as a freedom-fighter. But the legend of William Tell also entails a dramatic episode where our hero, on his way to the Küssnacht castle as a prisoner of the imperial bailiff Gessler, manages to survive a terrible tempest on the lake of Uri and to escape both the natural catastrophe and the perspective of a life of servitude. Like William Tell, the brave inhabitants of Fukushima and of the Tohoku region as a whole have shown their resilience to a natural catastrophe and their capability to survive and to fight for a future of freedom and prosperity.  I consider the unveiling of the William Tell relief today as a tribute to their courage and their determination. I admire you and wish you every success in your admirable efforts."
On 24 September, at the invitation of the Mayor of Oyamazaki Town Keiichi Yamamoto, Ambassador Paroz attended the 2nd Swiss Fair of Oyamazaki Town. As part of the rich cultural program, the talented Swiss alphorn player Lisa Stoll and the Japanese yodel singer Keiko Ito with her AMSLE Quantett Musical Group gave a greatly appreciated concert.
Switzerland has been paired with Fukushima City and Oyamazaki Town in the context of the Host Town Initiative, on the road to the Olympic and Paralympic Games of Tokyo 2020. Thanks to the initiative, precious opportunities to strengthen the mutual knowledge and cooperation between Japanese cities and a foreign country are already seized.