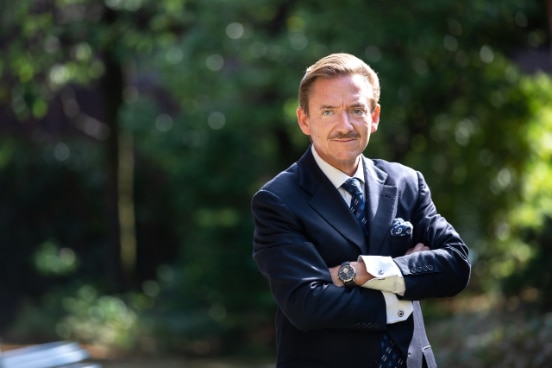 I feel privileged and humbled to address you, as this month marks 10 years since the Great East Japan Earthquake and Tsunami. 
In the name of my country, Switzerland, I want to pay tribute to those whose lives were lost or affected by the catastrophe. I salute the impressive reconstruction effort in the entire region and the remarkable resilience of Japan. Most importantly, I wish to look toward a bright future together with our friends from Tohoku and Japan.
Switzerland shares deep ties with the Tohoku region. 
As our Host Town on the Road to the Olympic and Paralympic Games, Fukushima City is doing us the honor of organizing many Swiss-related events, from concerts to cultural exchanges and school visits. 
Together with the non-profit organization Support our Kids, our Embassy is able to provide students of the affected areas with home stay programs in Switzerland, thus supporting the development of young leaders with a global outlook. 
Between 2013 and 2015, Ark Nova, a movable concert hall produced by the Lucerne Festival, Kajimoto Music and architect Arata Isozaki, contributed to revitalizing the cultural life in Matsushima, Fukushima and Sendai through music and education. 
Let me also express my admiration for the fantastic reconstruction effort of Onagawa Town, ranging from the Medical Center to the train station, new embankment and a shopping district. I am proud that Switzerland has been able to play a modest part in this ongoing success story. 
Japan and Switzerland share a similar commitment for more sustainable and more resilient societies.  As we contemplate 10 years since the earthquake, the tsunami and the nuclear catastrophe of Fukushima, we are also provided with an opportunity to reflect on the important challenges ahead of us. 
Among them, the realization of the 2030 Agenda which calls for increased international cooperation, meaningful innovation and responsible entrepreneurship, including in the energy sector. Switzerland looks forward to further deepening its relations with the Tohoku region on many levels, and to continue partnering with Japan towards a future powered by cleaner, healthier and greener technologies. 
On a more personal note, this month marks half a year into my mandate in Japan. I very much look forward to traveling to Tohoku, to discovering the region and meeting with its people and leaders as soon as the pandemic situation allows. 
With admiration and respect for all our friends of beautiful Tohoku, 
Andreas Baum,
Ambassador of Switzerland to Japan
March 2021