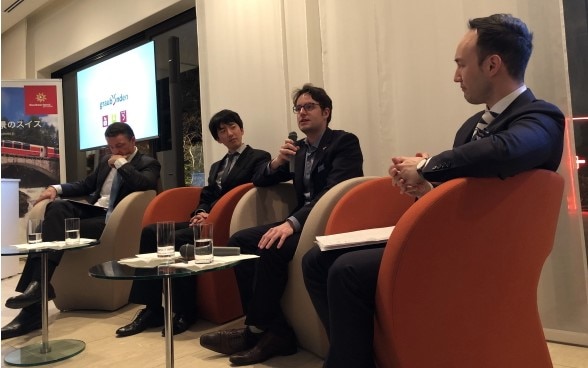 During a pilot event in view of introducing the "Emna da la Lingua Rumantscha", i.e. Romansh-Speaking Week, in which Switzerland celebrates its fourth national language originating in the canton of Grisons, Ambassador of Switzerland to Japan, Mr. Jean-François Paroz welcomed Mr. Jonas Rüegg, PhD Candidate in East Asian Languages and Civilizations at Harvard University, and Mr. Tomoya Sakaguchi, independent linguist and founder of Sakaguchi Honyaku Service at the Swiss Ambassador's Residence in Tokyo. Rüegg/Sakaguchi, together with two other linguists, co-authored Suisu 'Romanshu-go' Nyūmon, the first introduction to the Romansh language and culture entirely written for a Japanese readership.
After a brief introduction highlighting the value of diversity by Minister Markus Reubi, the two researchers gave a presentation about the Romansh language and its current condition. They also shared their personal experiences and memories from the time they spent in the Rumantschia-region. Moderated by Mr. Jonas Pulver, Head of Culture and Communications Section, the subsequent discussion was joined by Mr. Fabien Clerc, Director Switzerland Tourism Japan, who showed breath-taking video footage of Grison's Alpine scenery. The lively panel discussion allowed the audience to gain an even deeper insight into the language, its culture and its environment. The event ended with a taste of Grisons including wine and local gastronomic specialties from the Romansh-speaking region.
Following a referendum on February 20, 1938, the Swiss citizens officially recognized Romansh as their 4th national language. Nowadays spoken by about 60,000 and understood by about 100,000 people, it is currently the main language of around 44,000 people, approximately 28,000 of whom live in the canton of Grisons.