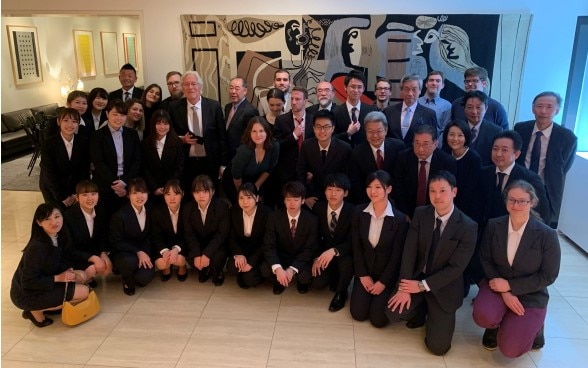 At the beginning of February, a group of eight Swiss students and one professor from HESAV visited Japan as part of a mutual student exchange program with Teikyo University in the field of radiology. As a wrap-up of their two weeks in Japan, they were invited to the Swiss Ambassador's residence in Tokyo on February 14th to celebrate together with the Japanese students and executive staff members of Teikyo University.
The ceremony began with an address by Ambassador of Switzerland to Japan, Mr. Jean-François Paroz. He congratulated the attendees on their fruitful cooperation and wished the two institutions a successful advancement of their future collaboration projects. After the speech, Prof. José Adalberto Pires Jorge expressed his gratitude and opened the floor for the group presentations of the students.
For the first four groups, the Swiss students recounted their experiences and impressions of the last two weeks. Apart from gaining valuable insights into the radiology practices in Japan in comparison to the Swiss way of handling patients and distribution of responsibilities among medical staff, the audience was offered a glimpse of the Swiss group's visit to the Fukushima Daiichi Nuclear Power Station. As one of the highlights, the radiological scientific visit to the nuclear reactor deeply impressed the Swiss students with the strict measures taken in order to counter the radiation.
The fifth group consisted of five Japanese students who were amongst the exchange students visiting Switzerland for almost two weeks. During their stay, the Japanese students received briefings on the Swiss public health and education systems, Swiss radiography profession, radio-oncology services at CHUV, insights in Swiss and European mammography research and more. They presented their observations about Japanese and Swiss radiology demographics and institutional differences as well as impressions from the trips to the Olympic Museum in Lausanne and CERN.
The presentations were concluded with a speech by Prof. Takahide Okamoto, Chairman of the Department of Radiological Technology, Teikyo University. He stated that the exchange was a good opportunity for young talents to broaden their perspectives and stressed the importance of knowledge about the differences and mutual respect. Finally, the Swiss students were presented their certificates of participation by Prof. Hajime Takikawa, Dean of the Faculty of Medical Technology, Teikyo University.
HESAV and Teikyo University started their cooperation in 2017 and conducted the first round of student exchanges in the school year of 2018/19, making this year's edition the second one. The program operates in the field of radiology for medical use and is conducted reciprocally on a two weeks basis. Both parties were pleased with the promising prospects of the program and the planning of next year's edition is already underway.