Embassy of Switzerland in Colombia
Travel to Switzerland
The Schengen Area remains closed to tourists from third countries. Foreigners and non-resident aliens are only authorized to travel to Switzerland in exceptional cases (medical, family and other emergencies). These hardship cases are handled individually by the embassy upon request. However, due to the Covid-19 situation, the Embassy's capacity is limited and longer response times are to be expected.
Please note that a negative PCR test carried out within 72 hours of departure is required for entry into Switzerland..
Find out on the website of the Federal Office of Health (FSO) about the current provisions regulating entry into Switzerland due to the COVID-19 pandemic.
Coronavirus (COVID-19)
La Embajada de Suiza en Colombia sigue de cerca la evolución de la pandemia COVID-19. El estado de emergencia sanitaria ha sido prolongado hasta el 31 de agosto 2021.

A los viajeros
Infórmese en el sitio web de la Oficina Federal de Salud (FSO) sobre las disposiciones actuales que regulan la entrada a Suiza debido a la pandemia de COVID-19.
Mantenemos un registro de ciudadanos suizos no residentes en Colombia que se encuentran en el país y que se encuentran en dificultades. En caso de duda, comuníquese con la embajada.
El Departamento Federal de Relaciones Exteriores (FDFA) invita a todos los ciudadanos suizos que viajan al extranjero a registrarse en la aplicación Travel Admin app.

Servicios de la Embajada
La Embajada continúa operativa, pero la comunicación se realiza a través del correo electrónico bogota@eda.admin.ch. En casos consulares urgentes, se puede otorgar una cita personal en ventanilla (convenida de antemano por correo electrónico o por teléfono), en los siguientes horarios: lunes a jueves de las 08h00 hasta 12h30 y de las 13h45 hasta 17h00. El viernes de las 08h00 hasta 13h00.
Informaciones generales
La Embajada recomienda a la comunidad suiza en Colombia seguir las directivas y recomendaciones de las autoridades locales para la prevención y tratamiento del COVID-19. En caso de dudas, pueden dirigirse a la página Ministerio de Salud de Colombia sobre el tema.
En Suiza, el órgano competente es la Oficina federal de la Sanidad Pública, quien se encuentra informando constantemente acerca de la situación en nuestro país en su página web.
Contactos útiles
Oficina Federal de Sanidad Pública de Suiza: Infoline Coronavirus: +41 58 463 00 00
Números de emergencia (reporte de casos): Bogotá: 031-3649666 – Línea 123
Medellín: 321 8533928 – Línea 123
Cali: 316 7779452
Cartagena: Línea 125 – Centro regulador de Urgencias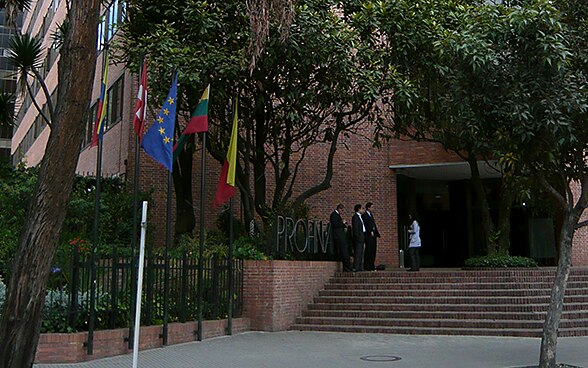 As the official representation of Switzerland, the Embassy covers all matters concerning diplomatic relations between the two countries. It represents Swiss interests in the areas of political, economic, financial and legal affairs, as well as science, education and culture.
Warning: False information about the Swiss pension system are circulating on the web
The Embassy of Switzerland in Colombia abroad officially denies the information circulating on certain websites about alleged beneficial pensions that Latin American citizens could obtain in Switzerland. This false publicity refers to a so-called clause in the Swiss Constitution that would allow foreigners to access to high pensions. Please ignore this erroneous information that has no truthfulness. We recommend that you are being cautious about sharing your personal data with third parties.
Detailed information can be found on the Spanish page.