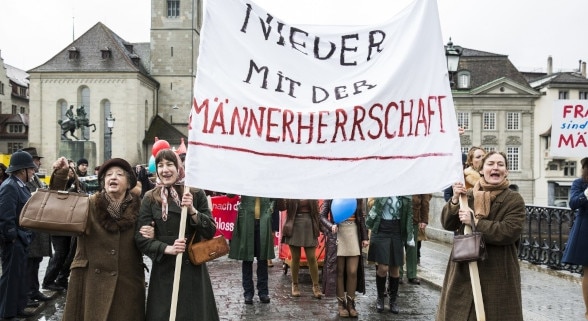 On the occasion of International Women's Day 2022, the Consulate General of Switzerland in Montreal is pleased to invite you to the online screening of "The Divine Order" (Die göttliche Ordnung) a comedy about the struggle for women's rights in 1971, directed by our compatriot Petra Volpe.
[2017, 96 min, fiction, original version in Swiss German with English or French subtitles] 
How to join?
Make sure to REGISTER HERE in order to receive your free access.
Registered participants will receive details to access the film via email, on March 7, 2022.
Watch the movie at your convenience, anytime on March 8 (available 24h).
SYNOPSIS - 1971: Nora is a young housewife and mother, living in a quaint little village with her husband and their two sons. The Swiss countryside is untouched by the major social upheavals the movement of 1968 has brought about. Nora's life is not affected either; she is a quiet person who is liked by everybody – until she starts to publicly fight for women's suffrage, which the men are due to vote on in a ballot on February 7, 1971.