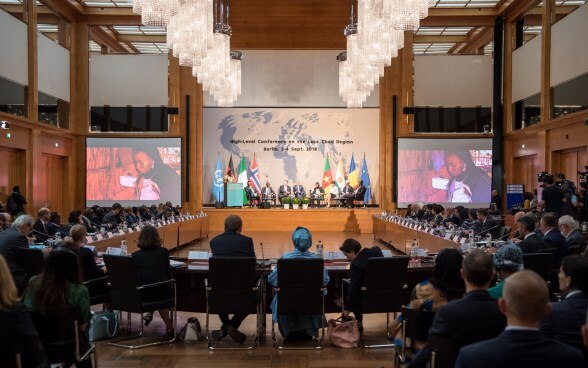 Millions of people in the Lake Chad basin, which borders Nigeria, Niger, Chad and Cameroon, are affected by poverty, climate change and the conflict with the Boko Haram group. They suffer from violent attacks, inadequate infrastructure and disastrous humanitarian conditions. Currently, as a result of the conflict, around 2.4 million people have been displaced and more than 10 million are dependent on humanitarian support. At the same time, there is a shortfall in humanitarian resources for 2018 amounting to some USD 1 billion. Despite military successes against Boko Haram, an end to the crisis is not in sight, and the international community will need to persevere in its efforts to alleviate the suffering of the population and find a peaceful and sustainable solution to the conflict.
Against this backdrop, representatives of a number of states and international organisations are holding talks today and tomorrow in Berlin within the framework of a high-level conference on the Lake Chad region to find ways to alleviate the suffering of the civilian population. The conference was convened at the joint initiative of Germany, Nigeria, Norway and the United Nations as a follow-up to the humanitarian conference in Oslo in February 2017. The Swiss delegation is headed by Ambassador Manuel Bessler, the Federal Council's delegate for Humanitarian Aid. In addition to mobilize financial resources in support for the region, the conference aims to strengthen the joint and comprehensive commitment of the international community and facilitate talks with the affected states.
Switzerland has announced CHF 20 million of budgeted funding in favour of the people of the region. This sum is to be split up into contributions to humanitarian aid, development and peacebuilding, and provide funding for projects in the areas of food security, protection, hygiene, education, as well as preventing violent extremism and promoting reconciliation. In its statement to the conference, Switzerland called for respect for human rights and international humanitarian law in conflict situations, as well as for a coordinated and comprehensive response to the situation by the international community, while stressing the need for a political solution to the crisis.
---
Further information:
Bilateral Relations Switzerland–Nigeria
High Level Conference on the Lake Chad Region

---
Address for enquiries:
Information FDFA
Bundeshaus West
CH-3003 Bern
Tel.: +41 58 462 31 53
Fax: +41 58 464 90 47
E-Mail: info@eda.admin.ch
---
Publisher: