Embassy of Switzerland in Argentina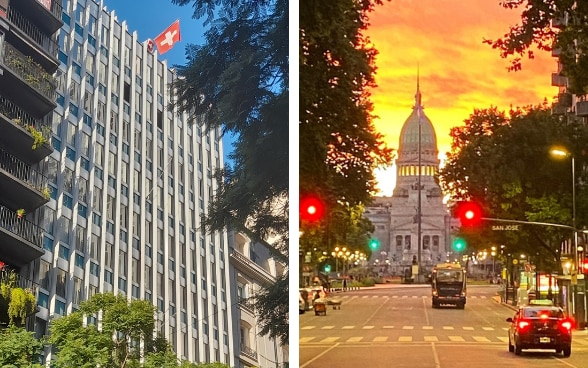 As the official representation of Switzerland, the Embassy covers all matters concerning diplomatic relations between the two countries. It represents Swiss interests in the areas of political, economic, financial and legal affairs, as well as science, education and culture.
The Consulate is still operational, but communication is via email: buenosaires.cc@eda.admin.ch; for urgent consular cases, a personal appointment can be made at the counter (agreed in advance by email).
The Swiss Compensation Office in Geneva accepts - due to the current situation, mail delays and difficulties in contacting the relevant authorities - temporary proof of life certificates by e-mail to: sedmaster@zas.admin.ch. These can be confirmed by members by means of their signatures without an official stamp together with a photocopy of a valid document (Swiss or foreign passport or identity card).

Visa: for information on entry and stay in Switzerland, please consult the following link: SEM

The embassy regularly provides information on Swiss government measures on its social networks Facebook and Twitter.

Novel Coronavirus
For information related to the Novel Coronavirus (COVID-19) kindly consult the information and directives of the local authorities Ministerio de Salud – Argentina and the recommendations of the World Health Organisation WHO
On state level, the Federal Office of Public Health of Switzerland FHPO informs in regards to the Novel Coronavirus and publishes travel advice accordingly.
The Travel Advice FDFA (in German, French and Italian) offers travelers basic information for travel preparation by informing on possible risks and certain precautions. They are to be considered as a complementary source of information.
For urgent requests, kindly contact the FDFA Helpline (Tel. +41 800 24-7-365 / +41 58 465 33 33) or contact the Embassy in Argentina
Detailed information can be found on the Spanish page.