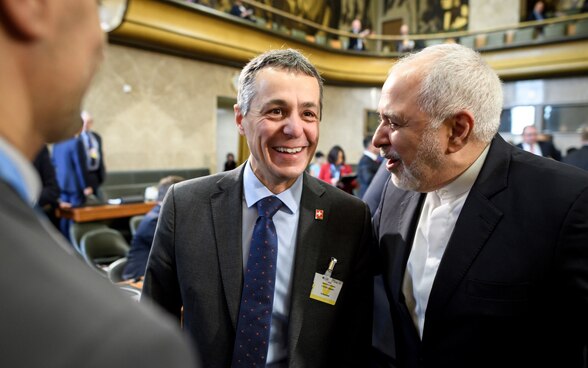 In his capacity as head of the Federal Department of Foreign Affairs (FDFA), Mr Cassis underscored in his opening speech the courage of the Afghan people in exercising their democratic rights and voting in the recent parliamentary elections, in spite of the potential risk to their lives. He added that 2018 had been the bloodiest year since the start of the war 17 years ago. The people of Afghanistan nevertheless made good use of their right to vote. "They fought bullets with voting papers, to protect their freedom", he stated. Mr Cassis went on to say that the time was ripe for a political solution, in view of the signs of a growing rapprochement between the conflicting parties. "What people in Afghanistan need most of all today is peace" said Mr Cassis. Holding the conference in Geneva, the city of peace and security, was no coincidence, he added. Mr Cassis thanked everyone that was helping Afghanistan to "shape its future and turn the country into a safe place where people can lead their lives in dignity."
Switzerland has been active in Afghanistan since 2002, working to promote human rights, strengthen the rule of law, protect disadvantaged groups, and improve basic education, agricultural development and the sustainable use of resources. These activities amount to approximately CHF 26 million each year for the 2017–20 period.
The head of the Swiss delegation, Ambassador Raphael Naegeli, stated that the Afghan government has made considerable progress with its reforms in recent years. He went on to say that neither the government nor the international community should ease up on their efforts to achieve political stability in Afghanistan. "Security and development in Afghanistan are in the interests of us all," he said on behalf of Switzerland. For its part, Switzerland intends to combine measures to promote development with humanitarian aid instruments in its activities in order to exploit synergies and achieve a greater impact.
The conference also provided Mr Cassis with the opportunity to hold several bilateral talks, including a meeting with Afghanistan's President Ashraf Gani and Foreign Minister Salahuddin Rabbani, and with Germany's Foreign Minister Heiko Maas.
---
Further information:
Opening Address by Federal Councillor Ignazio Cassis (fr)
SDC - Hindu Kush (Afghanistan, Pakistan)

---
Address for enquiries:
FDFA Information
Federal Palace West Wing
CH-3003 Bern, Switzerland
Tel.: +41 58 462 31 53
Fax: +41 58 464 90 47
E-mail: info@eda.admin.ch
---
Publisher: