SwissInTouch – the app for the Swiss community abroad
SwissInTouch keeps you connected with the authorities in Switzerland and your local Swiss representation.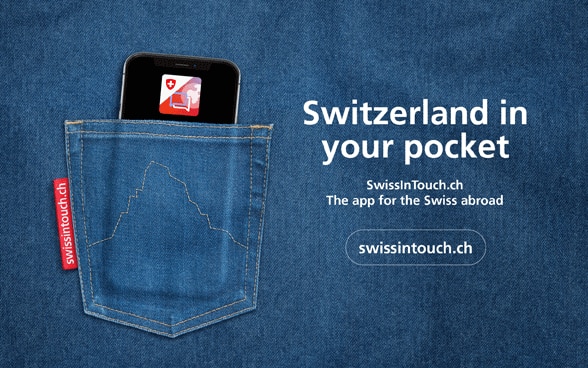 SwissInTouch is an engaging, modern information and communication platform designed especially for Swiss citizens abroad. The app complements existing channels such as the social media pages of the representations and the Federal Department of Foreign Affairs (FDFA), its websites and the FDFA Helpline, which is open year round 24/7 to answer your queries. The advantage of SwissInTouch is that it brings together important topics for the Swiss community in one app. You no longer have to log on to different platforms or consult different communication channels to get the information you need.
Both the Swiss representations abroad and the FDFA's head office in Bern use SwissInTouch to post information about matters of concern and interest to the Swiss community abroad.
SwissInTouch also supports Swiss citizens abroad at various stages in their lives by providing information that is relevant to their situation. It is an easy way to contact your local representation and receive up-to-date information.
The app provides all Swiss citizens abroad with quick and handy access to information from their Swiss representation and the authorities in Switzerland, even when on the move. So you can keep Switzerland in your pocket at all times!
The app's features at a glance
© FDFA

Discover the latest posts by your representation and Switzerland. Access engaging content on various topics, take part in surveys and sign up for events.

Stay informed and up to date at all times. On the SwissInTouch newsfeed you will find the latest news and important information from your local representation, the FDFA's Consular Directorate and various partners.
© FDFA

The Guide provides assistance with immigration, emigration and many other situations experienced by Swiss nationals living abroad. Whatever stage of life you are at, the Guide function offers country-specific advice on topics that are likely to interest you. To help you find what you are looking for more easily, the information is organised around 'life events' – such as everyday life, family, retirement and emergencies.
© FDFA

In your Profile, you can manage and keep track of your upcoming events. A single login gives access to all features and services in the app. As well as managing your personal details, you can select your local representation to add useful information to your feed. You can also freely add other representations that you would like to follow in the app.
© FDFA

See the various ways to contact your representation at a glance. Choose your preferred communication method and contact your representation via telephone or email.
© FDFA

We value your opinion! To meet the needs of Swiss citizens abroad, we need to know what you think. So please tell us by responding to the surveys on various topics. Your responses are completely anonymous. We look forward to hearing your feedback on the things that matter to you.