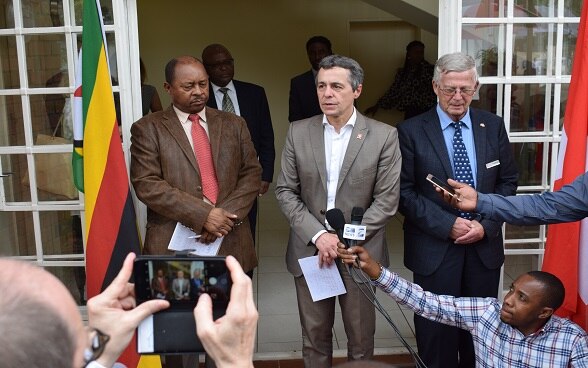 The clinic which is working with more than 10,000 HIV patients is receiving financial support from the government of Switzerland through the Swiss Agency for Development and Cooperation (SDC).
Health system recovery, the impact of HIV/AIDS and a peaceful transition in Zimbabwe following the resignation of the former President, Robert Mugabe were at the centre of the discussions between Mr. Cassis and his Zimbabwe counterparts.
Speaking during a tour of the Newlands Clinic, Mr. Cassis, said "I am particularly impressed by the enthusiasm and professionalism of Ruedi Lüthy and his daughter Sabine, whose efficient management has resulted in impressive results at this Health Centre of excellence."
"More than 10,000 people have sought services from this establishment and I would like to thank Professor Lüthy for spearheading this project, which is mainly privately funded, and for training staff on the new models of combating the deadly disease, not only at this clinic, but in several others where our support is offered," said Mr. Cassis.
"We will support the efforts of the new government as well as the Health ministry, and this Newlands project is one of our priorities as it cares for HIV and AIDS patients. It is a comprehensive approach for dealing with people who are suffering," added Mr. Cassis.
Dr. Obadiah Moyo commended the Swiss government for bringing innovation to the health sector while at the same time funding efforts to fight the effects of HIV and AIDS.
"We want to see more foreign investors here in Zimbabwe. We are very happy that you have health as a priority. In future, we hope to continue working with Switzerland in various sectors in Zimbabwe," he said.
The Newlands Clinic has been a centre of excellence in relation to HIV and Aids treatment, counselling, research, training of doctors and nurses and care and support of underprivileged adults and children in Zimbabwe.
The clinic competes with those in Europe and its objective is to improve the quality of life of people living with HIV and AIDS and reduce HIV morbidity, mortality and transmission in Zimbabwe.
The visit was part of Mr. Cassis, first trip to Africa in which he is aiming at strengthening economic and political relations with South Africa, Zambia and Zimbabwe. In Zambia on Tuesday, Mr. Cassis signed an agreement on air transport with Zambia and will meet with Minister of International Relations and Cooperation in South Africa.