Uzbekistan: Rural Enterprise Support Project (RESPII) - Ph. I
Completed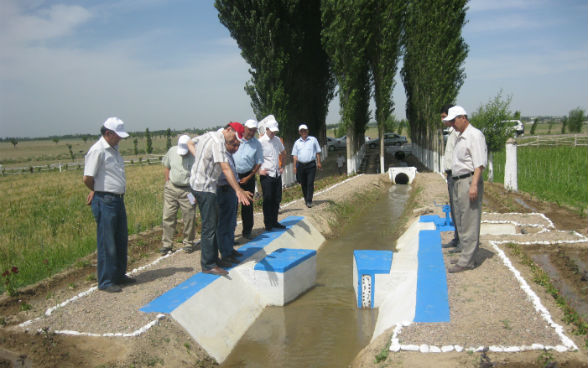 ©SCO Tashkent. Water flume meters at Field Farmers' School ©SCO Tashkent
Agriculture is one of the major components of the economy of Uzbekistan. Approximately 64 percent of the country's population lives in rural areas. Around 32 percent of the labor force is directly employed in agriculture. In addition, the agricultural sector has a direct impact on and relationship with many other areas of the economy generating 70 percent of domestic trade and servicing 90 percent of the domestic demand for agricultural products.
The project consists of three components financed by the Government of Uzbekistan, the World Bank and the SDC.
The first component of RESP-II, "Rural Enterprise Finance" is focused on a credit line for loans and leases to be issued through participating financial institutions. These funds will be used to finance investments in agricultural machinery, food processing equipment, storage, packaging, provision of agricultural services and inputs. The component also includes technical assistance for capacity building of financial intermediaries and provision of prospective loan applicants' access to business planning services.
Another component, "Irrigation and Drainage" (I&D) is aimed at achieving improved irrigation water management and service delivery, through the rehabilitation of critical inter-farm and on-farm irrigation and drainage infrastructure. It will also strengthen the Water Consumer Associations (WCA) and provide a pilot demonstration of applied modern water management techniques in 7 districts selected by the project. The "Irrigation and Drainage" component is divided into three subcomponents, two of which are funded by Switzerland.
The third component, "Rural Training and Advisory Services" covers the entire area of the 7 oblasts selected for RESP II. Within this component training and advisory services to farmers outside of the pilot districts will be provided. Training and advisory services will focus on entrepreneurial, legal, accounting, business and farm management issues, as well as technical aspects, namely:  water management and agronomy. Farmer Training Workshops, Training of Trainers, and specific Mass Media Campaigns will be organized within the framework of this component.
Switzerland is involved in two subcomponents of the (I&D) component: "Strengthening of WCAs and WCA support services" and "Support for Improved Irrigation and Drainage Technology".
In the Swiss funded "Strengthening of WCAs and WCA support services" subcomponent technical assistance is provided to WCA development and water management. These consist foremost of national/regional expertise to ensure feasibility and appropriateness of advice, support and training provided. The Swiss contribution in this subcomponent is combined with US$ 2.72 of the World Bank loan funds for procurement of basic equipment necessary for operation and maintenance works of on-farm irrigation and drainage infrastructures. This subcomponent builds on experiences and best practices of the IWRM project.
The "Support for Improved Irrigation and Drainage Technology" subcomponent is financed by Switzerland as well. This subcomponent focuses on the provision of water extension messages through demonstration and dissemination plots at each WUA in the selected 7 districts.
RegionCountry
Topic
Period
Budget
Central Asia

Water
Agriculture & food security


Water resources conservation
Agricultural water resources
Agricultural development


01.03.2009 - 28.02.2012

CHF  2'465'000

Background

Uzbekistan's dependence on the agricultural sector was the main rationale behind the decision of the World Bank to start the Rural Enterprise Support Project (RESP) implemented in Uzbekistan from 2001to 2007. After the successful completion of the first phase of the Rural Enterprise Support Project (RESP I), it has been decided to begin preparations for a second 6-year phase of the project (RESP II). In this context, the Government of the Republic of Uzbekistan and the World Bank started discussions with the Swiss Agency for Development and Cooperation (SDC) for a parallel financing of RESP II.

Switzerland already has supported several successful water sector projects in the Central-Asian region. One of these projects is the "Integrated Water Resource Management Project in the Ferghana Valley" (IWRM). This project has been implemented in Uzbekistan, Tajikistan and Kyrgyzstan from 2001 until the end of 2012, with financial support of the SDC. The project activities focused on institutional, organizational and managerial aspects of water management to enhance judicious water use and thus water productivity by promoting a change from a top down to bottom up demand oriented water allocation along hydro-graphic principles.

Participation of Switzerland in the RESP-II project ensures effective combination of IWRM institutional innovations with investments into the rehabilitation of irrigation and drainage infrastructure by the World Bank. This teaming-up promises efficient synergies and enhances impact and outreach of donor interventions.

Target

The main objective of the RESP-II is to increase the productivity and financial and environmental stability of agriculture and the profitability of agribusiness. As such the project contributes to the further development of private farming, more secure livelihoods, increased environmental stability, greater social harmony, and to improved effectiveness of water resources management.

Target group

AIS - Administrations of Irrigation Systems;
WCA - Water Consumers' Associations;
Farmers.

Outcomes

Swiss participation in the RESP-II project will enhance effective use of available assets and resources, thus making a valuable contribution to supporting the agricultural sector of Uzbekistan. The objectives of the RESP-II are fully in line with the Welfare Improvement Strategy of Uzbekistan.

Agency
SDC

Credit
Swiss cooperation with Eastern Europe

Project Partners
Contract Partner
Foreign academic and research organisation
Private sector


Swiss Private Sector
Research Organisation of South East





Other Partners


Ministry of Agriculture and Water Resources of the Republic of Uzbekistan;
Rural Restructuring Agency;
World Bank.

Budget
Current Phase

Swiss Budget

CHF  2'465'000

Swiss Disbursement Till Know

CHF  2'454'047

Project Phases
Phase 2 01.03.2012 - 31.12.2015 (Completed)

Phase 1 01.03.2009 - 28.02.2012 (Completed)

DAC Sector
WATER SUPPLY & SANITATION
AGRICULTURE
AGRICULTURE

Sub-Sector according to the OECD Developement Assistance Commitiee categorisation

Water resources conservation (including data collection)


Agricultural water resources


Agricultural development


Policy Marker
Crisis prevention
The project takes account of gender equality as a cross-cutting theme.
The project takes account of democratisation, good governance and human rights as cross-cutting themes.

Aid Type
Mandate with fiduciary funds
Mandate without fiduciary fund

Project Number

7F06401