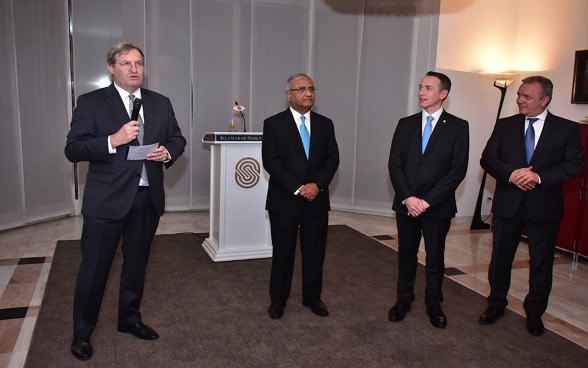 In an exclusive gathering, the Ambassador of Switzerland, Mr. Bénédict de Cerjat, co-hosted a reception with Serena Hotel Islamabad to celebrate the relaunch of the Serena Hotels Executive Education Programme in collaboration with École hôtelière de Lausanne (EHL) at the Embassy of Switzerland on 15 February 2022.
Mr. de Cerjat lauded Serena Hotels for its renowned standards for excellence in Pakistan and EHL for its world-class training in the hospitality industry. He also stressed that this initiative is an excellent example of Swiss and Pakistani collaboration in the tourism and service sectors, an area that holds great promise and potential.

On this occasion, the CEO of Serena Hotels Asia, Mr. Aziz Boolani, said that there is a need to increase skill-based education to raise industry standards and create job opportunities and this partnership with EHL is the right step in this direction.