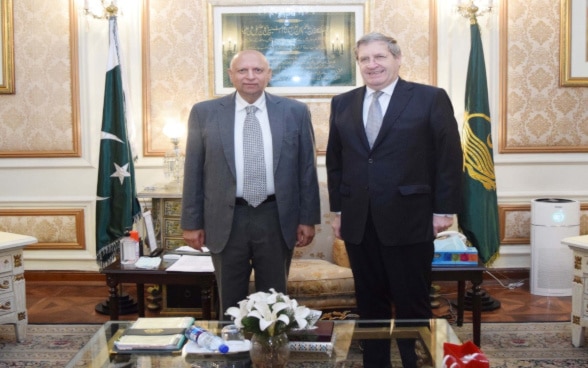 The Embassy on 21 February 2022 supported an initiative to promote interfaith harmony in Pakistan through fine arts, in collaboration with the Implementation of Minority Rights Forum (IMRF) and the Sustainable Peace and Development Organization (SPADO) at the Governor's House in Lahore.
The art exhibition brought together young Pakistani talent of different faiths from schools, colleges, and universities across the country. The exhibition also featured notable guests, including the Governor of Punjab, Chaudhry Mohammad Sarwar, Chairman of the Ruet-e-Hilal Committee, Maulana Abdul Khabir Azad, as well as members of the clergy, representatives of the civil society and the media.

Earlier, Ambassador Bénédict de Cerjat met the Governor of Punjab to discuss the socio-economic situation in the province. The Ambassador later met the Speaker of the Punjab Assembly, Chaudhry Pervez Elahi, to discuss bilateral relations between Switzerland and Pakistan.