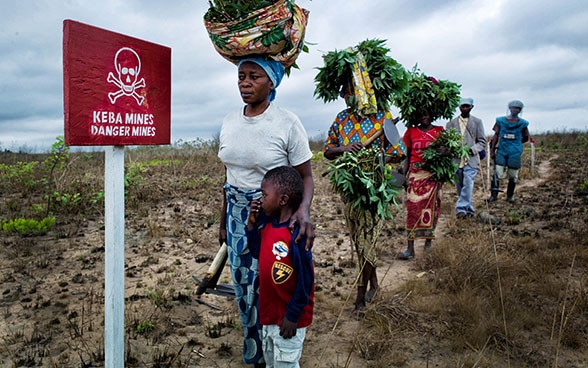 The strategy published today reflects Switzerland's solidarity with mine victims and reaffirms its intention to work towards a world without landmines, cluster bombs and other explosive remnants of war at the political level and in practical ways.
Lasting success has been achieved in humanitarian demining over the past 20 years thanks to close cooperation between the international community, including Switzerland. Almost 50 million stockpiled anti-personnel mines and 2 million stored cluster munitions have been destroyed, large areas – such as in Albania, Burundi and Mozambique – have been cleared and returned to the local population, and the number of victims of landmines and unexploded bombs has been reduced from over 70 to fewer than 10 a day at present. There are still many challenges to overcome despite these efforts. The sharp rise in contamination due to current armed conflicts, contaminated sites from previous conflicts, difficult demining conditions, failure to systematically implement international obligations, limited resources and a frequent lack of local expertise will continue to impact on humanitarian demining over the coming years.
In light of this situation, the federal government set out its guidelines for continuing Switzerland's commitment to humanitarian demining during the 2016–19 legislative period. The key objectives here are Switzerland's contribution to enhancing the security of people and their communities, sustainable development, and bolstering the capabilities and self-reliance of those concerned locally. The federal government will once again allocate around CHF 16 million a year to humanitarian demining during this period. Based on the close cooperation between the FDFA and the DDPS and in tandem with international partners, the federal government will fund targeted demining projects in the countries concerned, dispatch experts to UN demining programmes, shape policymaking at the multilateral level and maintain the strategic partnership with the Geneva International Centre for Humanitarian Demining (GICHD).
This is the fourth humanitarian demining strategy since 2004. It builds upon the proven guidelines of Switzerland's previous involvement in this field but is aligned to the challenges that have been identified. The strategy reflects the firm belief that humanitarian demining remains vitally important in paving the way for peace, development and security policy as well as humanitarian aid and, in particular, contributes towards attaining various goals of the 2030 Agenda for Sustainable Development. Switzerland has been in the top 10 donor countries worldwide for many years in this key area for human protection during and after armed conflict.
---
Further information:
Humanitarian Demining Strategy 2016–2019
Anti-personnel mines, cluster munitions and other explosive remnants of war

---
Address for enquiries:
Information FDFA
Bundeshaus West
CH-3003 Bern
Tel.: +41 58 462 31 53
Fax: +41 58 464 90 47
E-Mail: info@eda.admin.ch
---
Publisher:
Federal Department of Foreign Affairs
Federal Department of Defence, Civil Protection and Sports DDPS