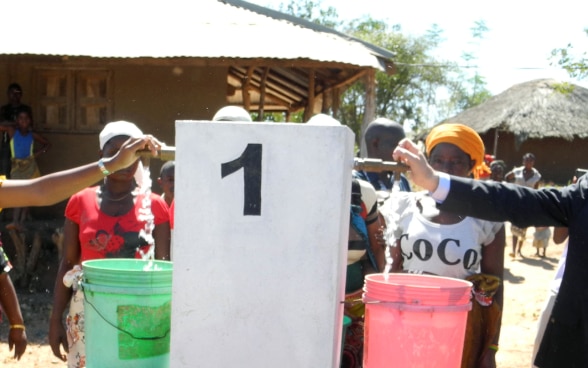 The  Ambassador, Mirko Manzoni and Governor of Cabo Delgado Province, Celmira Silva launches the water supply system in the Anguabe district, with a massive presence of the population of Metoro, who have long been waiting for access to clean water in the village.
The NGO Helvetas Swiss Intercooperation in coordination with the Provincial Directorate of Public Works, Housing and Water Resources of Cabo Delgado was in charge of the construction of the system.
Climate change is hampering access to water in Mozambique. Water levels are getting lower and the lack of adequate technology is making it increasingly difficult access the water. The ability to manage and maintain the infrastructure is weak and needs the involvement of all to ensure the continued existence of clean water.
In Cabo Delgado, only 30% of the population has access to clean water, making the population vulnerable to diseases that could otherwise be prevented. The recently opened water supply system had the involvement of Provincial authorities, Local authorities and Consumers in order to create the appropriate management model for the needs of citizens, promoting efficiency and accountability of services.  All parties were also involved in the setting tariffs.
Budgeted at MZM 30,000,000 - CHF 800,000 the construction of the supply system was the second project to be financed with the support of the Swiss Confederation thus reducing the impact of climate change in the world.  The Coastal protection of the city of Beira was also funded for the same purpose.
The inauguration of the water supply system was witness by the Governor of Cabo Delgado Province, members of the Provincial and District Government and representatives of NGOs.