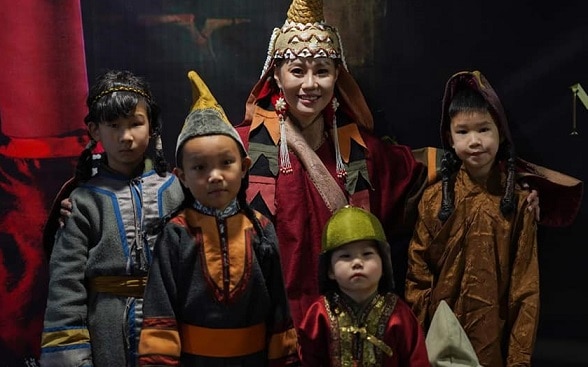 Even though Mongolians, women and men, girls and boys, tend to wear their traditional costumes frequently, particularly during special national holidays such as Tsagaan Sar and Naadam, not many people abroad or even in Mongolia are likely to be aware of its very long history and deep-rooted heritage. Over centuries, Mongolia has played a significant role in world history, and the Mongolian deel has always been a part of Mongolia's history, inadvertently influencing the clothing culture of humankind. This clothing culture has been passed down to current and future generations and is being promoted by designers, artisans, and artists. This intangible wealth of culture is greatly affected by research, promotion, and preservation, entwined into each and every family in Mongolia. The elements and details of Mongolian costumes are widely used in contemporary fashion design, not only to reflect the uniqueness of characters in cinematic art but also in everyday clothing designs. Mongolian costumes have tremendous potential to be further explored to enter into new markets abroad.
Mongol Costumes LLC is a Mongolian company led by amazing women entrepreneurs. Mongol Costumes is on a mission to record and reveal the history of Mongolian costumes. For the last decade, they have collected and documented traces of Mongolian costumes from museums and libraries in over 40 countries and all regions of Mongolia. They have meticulously put together evidence and information to tell the story behind Mongolia's amazing costumes, dresses, hats, and jewellery. Each piece is unique, handcrafted, and full of symbolism and meaning. 
The Swiss Agency for Development and Cooperation was approached to provide the funding necessary to complete the post-production and editing of "The Secret History of Mongol Costumes" during our call for cultural projects in 2020 and provided 34,400 CHF. Despite the hardships caused by COVID-19 restrictions, the documentary was released at the end of 2021, on National Independence Day, through the collaborative efforts of famous historians, archaeologists, scientists, designers, and the well-known Mongolian film studio Semuun. 
The documentary gives Mongolians a greater awareness of their history and unique and amazing culture. The deel has been passed down from generation to generation, allowing Mongolians to stand out from all other cultures and nations by wearing this colorful and vibrant attire with pride and joy, bringing inspiration to other nations and designers alike. Please enjoy this informative and engaging documentary here, and feel free to share it with your friends and loved ones.